30 June, 2019 VNTG
Mekong Delta has become a famous tourist destination in Vietnam in recent years, and cycling is a wonderful way to explore the area. Plus the authentic homestay, this will be one of the most unique tours you have ever joined.
Cycling in Mekong Delta, Vietnam
The Mekong Delta region of Vietnam, also known as the Southwest region, was formed from alluvial sediments and accreted through the sea-changing epochs; through each stage leads to the formation of sand dunes along the coast. The Western tourism is particularly impressed with tourists who have never set foot here because of vast water, vast coconut palms along the river bank, fields of a stork flying straight and many more interesting landscapes.
Instead of fancy vacation in resorts, recently, tourists are starting to take interested in the outdoor vacation, which leads them to explore the magnificent nature and local people's culture. The Mekong Delta in Vietnam is the perfect destination for that kind of vacation.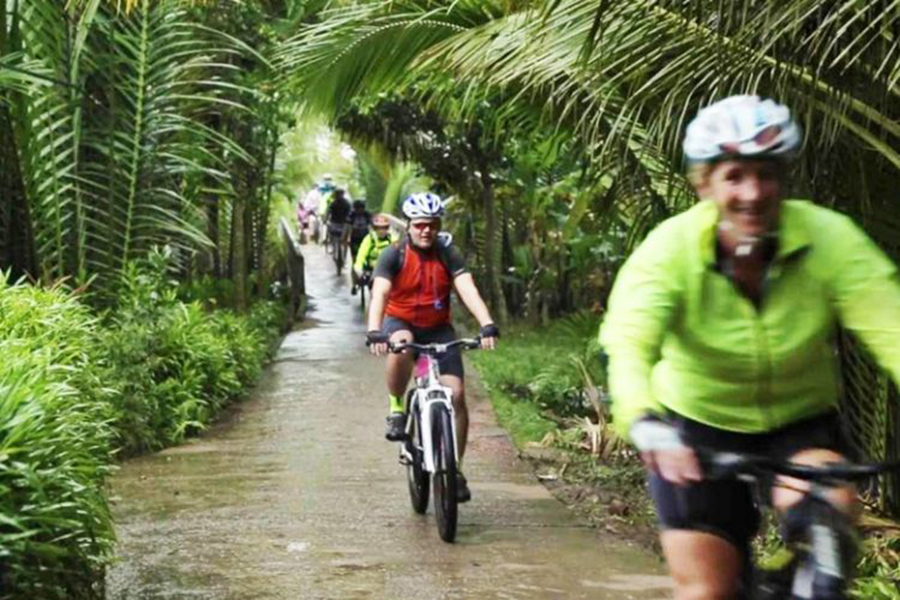 Cycling in Mekong Delta will be an amazing experience
Next, to the amazing sceneries, cycling is also a great way to explore the natural area of Mekong Delta. Cycling also improves both your mental and physical health greatly. Instead of lounging in the hotel all day, some exercise will only do you more good than harm. The short but unique journey will definitely please you.
Join Vietnam Travel Group's cycling tour in Mekong Delta, Vietnam, you will have the chance to enjoy some facilities that can hardly be found in anywhere else. With our services, you can cycle along country paths and peaceful country landscapes of the Mekong Delta, take in the magnificent sight of green rice fields stretching to the horizon.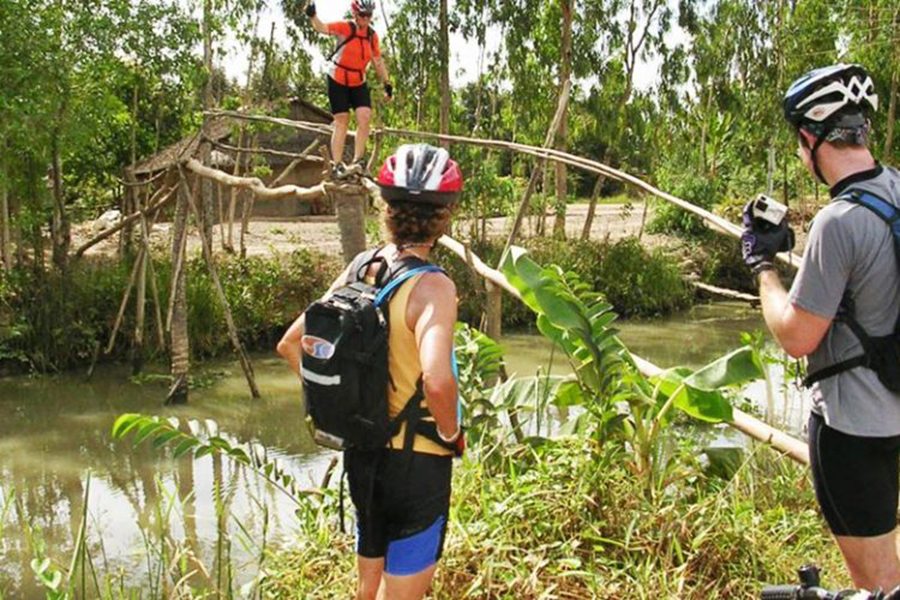 Customers having a great time exploring the nature
Plus, it will be absolutely fun to explore the system of crisscrossed brown canals by boats and enjoy tropical fruits. The local lifestyle in Riverside with floating markets and boat will amaze you as well. And last but not least, the building workshop will also be a wonderful experience.
Authentic homestay with Mekong Delta cycling tour
Besides the unique way of transportation, the authentic homestay is also an element that makes the tour become one of a kind. Homestay is a type of tourism that tourists will rest, sleep at the local people's house, in order to help tourists discover, experience and learn customs as well as the cultural life of each region in that locality.
To understand a simple and most general way, homestay is a type of community-based tourism, staying at people's houses at the local places where visitors come to explore. This type of tourism help that place to promote culture, people and beautiful landscapes to the travelers who stop by. Homestay is considered to be particularly suitable for multicultural countries like Vietnam because Vietnam has various culture and customs value, and staying at the local house is the best way to learn all of it.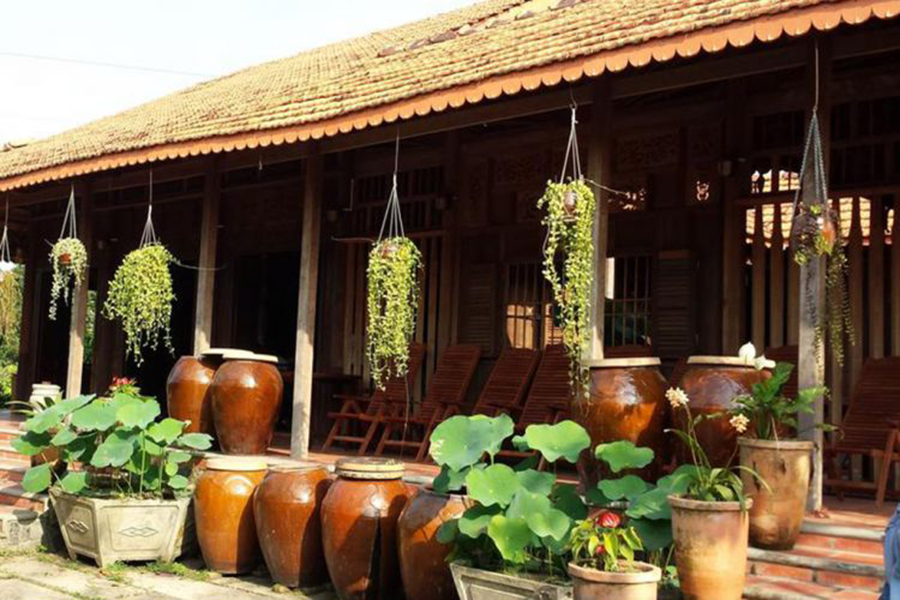 Homestay is an ideal way to learn local custom and culture
In Vietnam Travel Group's tour, you will be staying in a homestay. This will help you get the most realistic and amazing way to learn the culture and custom value of Vietnamese people. The homestay is also simple yet warm and beautiful, therefore give you a chastity vacation. You will have a comfortable and memorable time with our vacation in Mekong Delta, Vietnam.
The Mekong Delta tour from Vietnam Travel Group will also provide you with an amazing cooking class where you will learn how to make some Vietnamese delicious dishes. This will be an unforgettable experience for you, and also a great bonding time with your partners as well.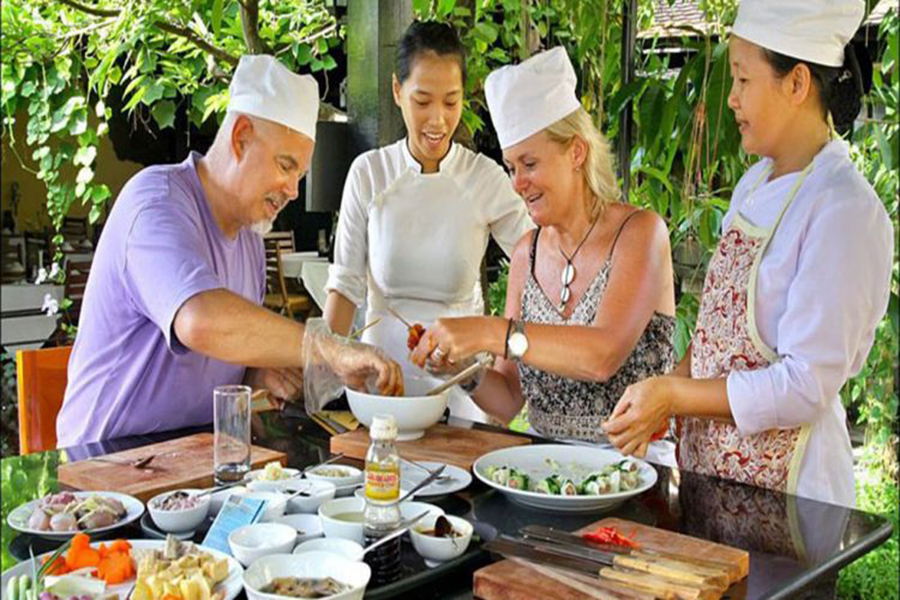 Customers taking their Vietnamese cooking class
A lot of other amazing services are waiting for you in our Vietnam Travel Group's 2 days tour to discover Mekong Delta. For more detailed information, you can visit vietnamtravelgroup.com or contact our staff for the best advisory.
The Mekong Delta is definitely suitable for a unique and lovely vacation in Vietnam this summer vacation. Vietnam Travel Group is more than honored to introduce you this amazing tour, as well as to accompany you in the most wonderful 2 days of your life.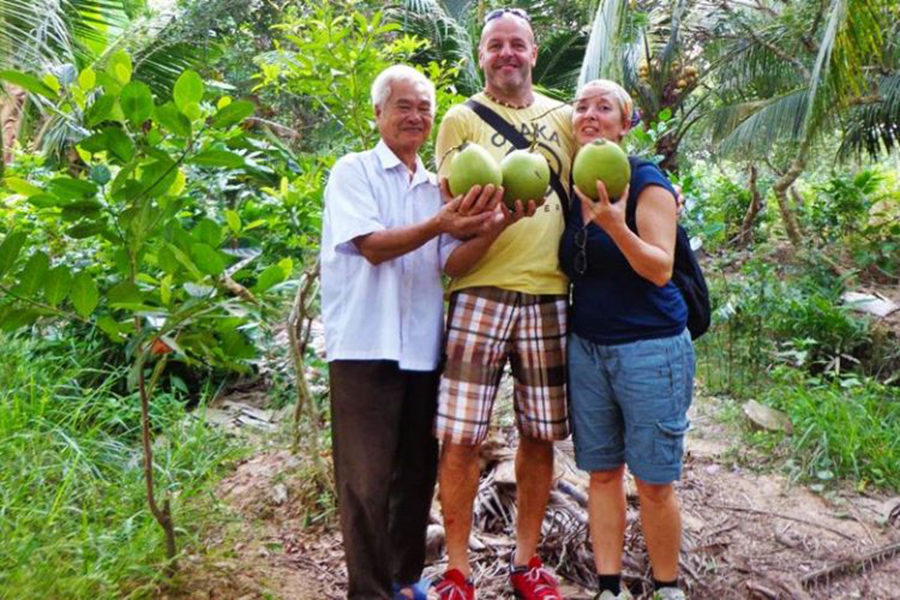 Tourists are guaranteed a great time with our Mekong Delta tour
If you are ready for an amazing journey in the famous Mekong Delta of Vietnam, please don't be hesitate to book a tour with Vietnam Travel Group for an interesting summer vacation. If you are looking for more detailed information or want to take a look at other tours, please visit vietnamtravelgroup.com or contact Vietnam Travel Group for more advisories.
We wish you a good day and a wonderful vacation in our S-shaped country.
vietnamtravelgroup.com