18 April, 2019 VNTG
Mekong Delta is a wonderful picturesque waterway and exotic natural scenery lies between Cambodia and Vietnam, famous for its peaceful atmosphere and the lovely local people here. Joining Vietnam Travel Group, you will have 3 amazing days wandering in this breathtaking place.
Located between the borders of Cambodia and Vietnam, the vast Mekong Delta is filled with picturesque waterways and exotic natural scenery. Everywhere you look, you will see people doing laundry, keeping chickens or working on the land. The people in this area are very friendly and they are sure to wave to you as you pass. Here you will feel a peaceful environment that not many places have.
Coming on a Mekong Delta tour with Vietnam Travel Group, you will enjoy a boat ride on part of the place, have the chance to visit Cai Be Floating Market and visit Cai Rang Floating Market as well as Cham Village in Chau Doc. These destinations shall give you a clear insight into Vietnamese culture and customs.
Day 1: Ho Chi Minh City - My Tho - Ben Tre - Can Tho
To start your Mekong Delta tour, an air-conditioned transportation provided by Vietnam Travel Group with friendly English-speaking guide will pick you up from Ho Chi Minh City to the town of My Tho. You will visit the first place which is Vinh Trang Pagoda – one of the most famous and stunning pagodas in the area of Mekong Delta, and cruise by motorized boat to Tortoise Island. Along the way, you will pass fish farms, stilt houses... which can leave you awed.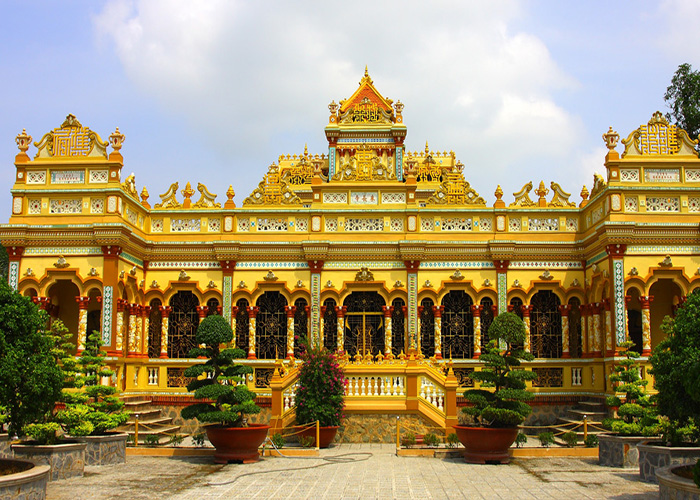 The astonishing beauty of Vinh Trang Pagoda
So what will you do on your first day? Well, you can start by learning about the local agricultural model known as Garden-Pond-Cage. You also have the opportunity to taste some local treats like coconut candy and honey tea as you sit back and relax on your wooden riverboat in the comfort of the shaded canals covered by water-coconut trees. The simple yet impressive local food shall make you satisfied.
In the afternoon, after finishing the traditional flavors of the religion, you will board your boat for a cruise to visit the marvelous tropical fruit gardens. Not only that, but you also go to enjoy a Southern Vietnamese folk music performance by local islanders. This is a popular type of entertainment for the Vietnamese royals in the past, mark a remarkable factor of Vietnamese culture. After a relaxing cultural experience on the water, you are conveniently transported to your hotel in Can Tho City. That is the end for your first day
Day 2: Can Tho City - Cai Rang Floating Market - Chau Doc Town
On your second day of Vietnam Travel Group's private tour in Mekong Delta, you will continue with a visit to Cai Rang floating market in the morning. There is no better place to learn about the customs and daily life of Vietnamese people. In order to get close to all of the activity of the market, you will hop on to a small boat and sail between the floating stalls. The market is full of small boats darting through the water as vendors sell their wares. There is various type of goods are sold in the market, so you can buy some for your loved one as well.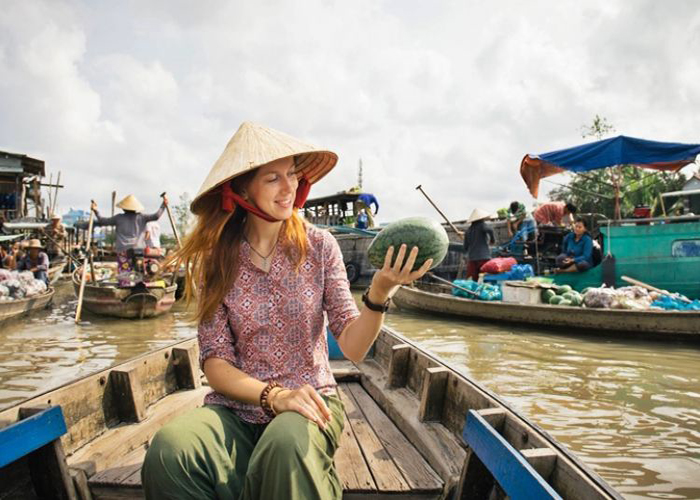 A tourist enjoying the atmosphere of Cai Rang floating market
Next, you will travel overland to Chau Doc. This is the place where many local people make a living from catching fishes, most of them have personal fish farms under their floating houses. You will have to take a small boat to these farms and may even get the chance to feed the fish. Make sure you stand back thought or you will be sure to get wet!
One of the highlights of this Mekong Delta tour lies near the border with Cambodia. Here you will find a Cham village, where the descendants of the ancient Champa kingdom lives, which was once located in Central Vietnam. This is the perfect end for your second day in Mekong Delta.
Day 3: Chau Doc Town - Ho Chi Minh City
There are not many things to do on your last day with Vietnam Travel Group. First, you shall enjoy your breakfast, then spend time on the last boat trip through the floating village of the Mekong. You will stop at a fish farm to learn how Mekong Delta people farm from their floating houses – which is an outstanding factor of Vietnamese custom that you really should hear of.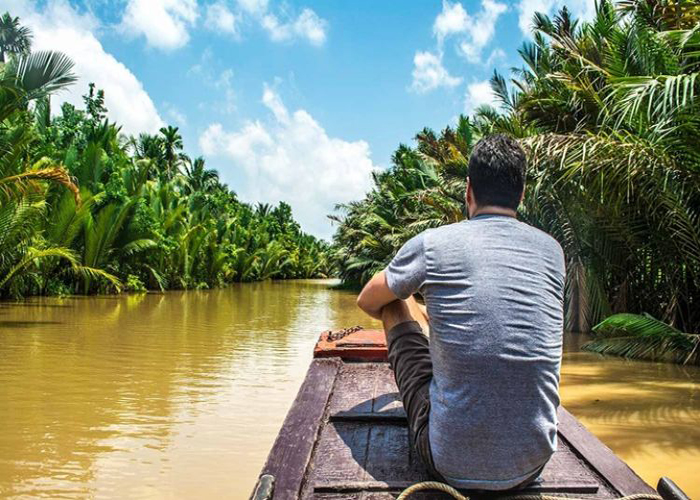 The riverboat is an interesting experience you will have in Mekong Delta
If you want to know more about Vietnamese culture, the meeting with the Cham minority people in their traditional weaving village will be perfect for you. You also can go to a local mosque. That is when the tour in Mekong Delta ends and you will leave with a happy smile and sweet memories with Vietnam.
Vietnam Travel Group has been serving thousands of tourists from all over the world, and most of them come back home after a wonderful vacation in our beautiful Vietnam. With our years of experience, we guarantee to give you the best quality time in the lovely S-shaped country.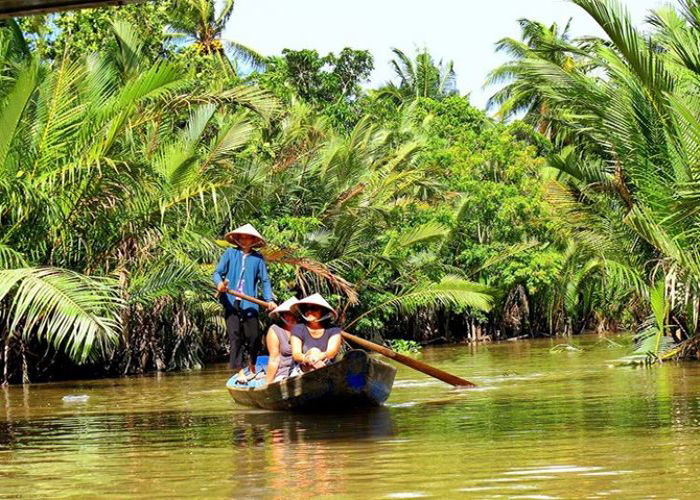 Don't miss the chance to drown in the peaceful beauty of Mekong Delta
For more detailed information about the Mekong Delta tour through the most outstanding places, or to look for more amazing travel tour in Vietnam, please visit vietnamtravelgroup.com or contact our staff for a throughout advisory.
Vietnam Travel Group is thrilled to have the chance to serve you. Are you ready to explore with us?
vietnamtravelgroup.com