05 March, 2019 VNTG
Vung Tau city isn't called "the gem of Vietnamese tourism" for no reason. Its beautiful landscapes will definitely make you awed. In just one day, you will be taken to every magnificent wonder in Vung Tau, from the natural ones to the artificial ones too. The luxury group tour guarantee to give you the best vacation in your life.
Where will you visit in Vung Tau with our Luxury Group Tour?
Vung Tau is a city in Ba Ria - Vung Tau province, located in the South East region of Vietnam. This is the center of economy, finance, culture, tourism, transportation and education of the Southeast. In recent years, this amazing, beautiful city has been attracting thousands of tourists from all over the world.
In Vung Tau city, there are numerous stunning wonders, from the natural ones to the artificial ones. These are the elements that make people falling in love with the lovely city. Every traveler who has come to Vung Tau says that they had an amazing time, and always wanted to go back to Vung Tau if they have a chance.
Among the numerous astonishing destinations, Vietnam Travel Group's luxury tour will take you to the most popular, most beautiful and remarkable ones. You won't regret visiting these places, they will leave an absolutely unforgettable memory in your heart.
First, you will be taken to Niet Ban Tinh Xa (Nirvana Meditation Retreat). Niet Ban Tinh Xa is a Buddhist temple located on the slopes of Nho mountain, Vung Tau City. The temple was built from 1969 to 1974 with money donated by Buddhists. The pagoda was designed so it leans against the mountain and overlooking the sea. Inside, there is a statue of the Buddha who is meditating. This is considered one of the most beautiful places in Vung Tau. In the garden of the temple, there are many statues of the spirited animals, all are curved and structured in such a dedicated way that mesmerize most of the tourists who stops by.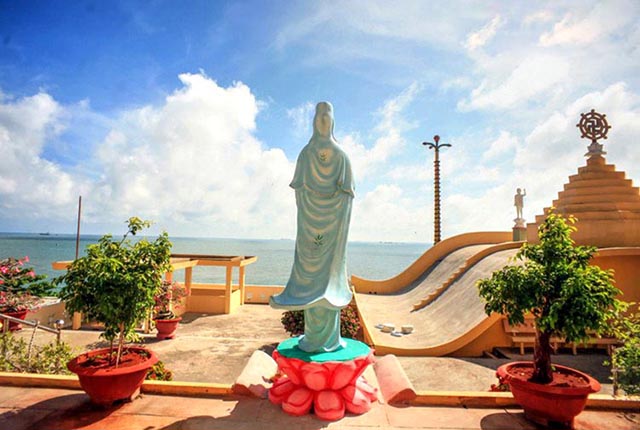 The peaceful and ancient beauty of Niet Ban Tinh Xa
In front of the main hall was a 21-meter-high flagpole, made into 42 levels, symbol of the first 42 Buddhist texts handed down to Vietnam in the II century. The flagpole is made from concrete, around it was enameled by red-yellow tiles. There are three lotus buds spreading out in three directions, a unique feature of Niet Ban Tinh Xa.
This ancient temple is one of the places that represent the religion of the Vietnamese people. In special events, Vietnamese will come here and pray for a better life, for blessing and happiness to themselves and their families. Joining this Vung Tau luxury group tour, you will have the chance to understand more about Vietnamese history as well as religion and beliefs.
Next, you will stop by Thich Ca Phat Dai (A Buddhist Shrine) – another famous temple at Vung Tau city. Thich Ca Phat Dai is an architectural complex with many large Buddha statues mingling with the beautiful nature. Not only is a popular tourist destination which has been attracting many tourists throughout the years, but also a historical relic of Vung Tau.
Thich Ca Phat Dai is very beautiful, especially thanks to the natural landscape with tall and green trees, steep cliffs, vast sea, deep blue sky, fresh air and quiet scenery. Every tourist comes here can feel their soul being refreshed as if they are reaching closer towards the sky, and be able to feel more of the astonishing beauty of Vietnam.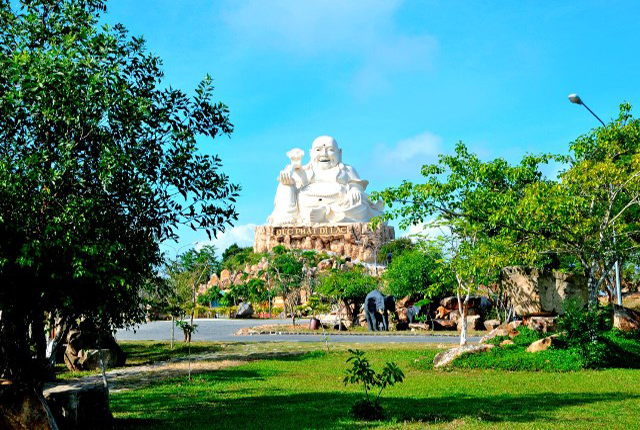 Thich Ca Phat Dai with amazing structure and beautiful landscape
Another interesting wonder that you definitely can't miss is the French-built Light House. This is considered as the oldest of Vietnam's 79 lighthouses and is a symbol of the coastal city of Vung Tau. France built this lighthouse in 1862 to signal and guide boats and ships back and forth.
From the lighthouse, we can see the whole view of every part of Vung Tau city: the sea and the coast, the city center. Around the lighthouse, there is a beautiful garden with fragrant and colorful flowers. Vung Tau Lighthouse is a solid structure, preserves the long-standing historical and cultural values. Located in a charming natural landscape, this is one of the interesting sights of Vung Tau tourist city.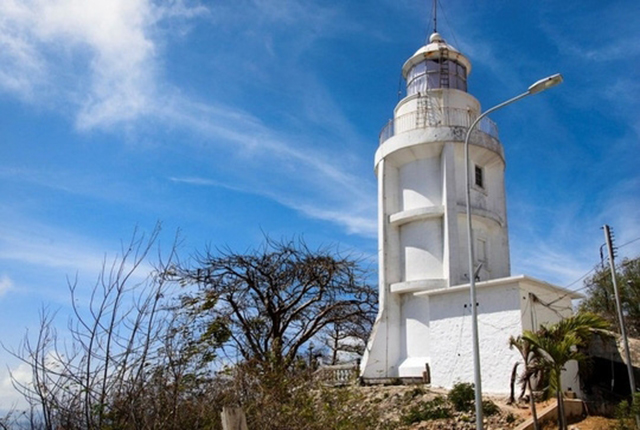 The magnificent beauty of the Lighthouse
And finally, you will be taken to the beautiful beach, where you can relax, go for a swim, or just simply sit and enjoy the cool salted wind and the warm sunray. Vung Tau is famous for its astonishing beaches, the magnificent view and the wonderful atmosphere here will absolutely make you overwhelmed.
Why should you choose our Full Day Vung Tau city group tour?
First, it's for time benefits. Daily works often take you a lot of time, and it's hard for you to arrange your schedule for a long vacation. Vietnam Travel Group's Vung Tau city tour only lasts for a day, with such an interesting itinerary that you will completely enjoy. This will save you a lot of time, instead of wandering around the city for days without actually finding anything worth visiting.
Second, it's for the services. Our Vung Tau full day tour is accompanied by English-speaking staff who will thoughtfully guide you through the trip. They are very experienced, dedicated, as well as friendly and hospitable. Going on the trip with them, you will feel so much happiness and will absolutely have the best time of your life.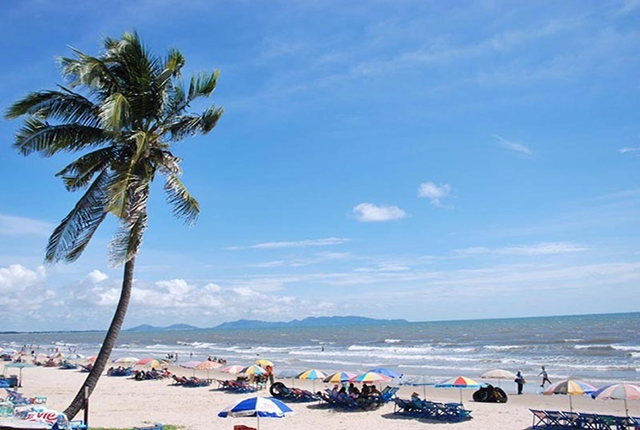 The peaceful beach of Vung Tau gives you the best relaxing time
Finally, it's for the city itself. Vung Tau city is a heaven of Vietnam, a gem of Vietnamese tourism that capture the heart of every traveler who stops by. Its beautiful sceneries, its fresh air, its amazing people will give you such sweet memory you won't be able to forget. You won't regret spending a day with this wonderful place.
If you are exciting for a trip in Vung Tau city, you can check for more information such as the policy, the inclusions as well as exclusions of the tour right on our Vietnam Travel Group website. Our dedicated staff is always ready to answer your questions, and happy to help you book a tour whenever you want!
Vung Tau city is ready to welcome you. Vietnam Travel Group wish you the most wonderful and memorable vacation!
Vietnamtravelgroup.com