30 June, 2019 VNTG
Hue is a peaceful city of Vietnam that you really should visit at least once in your life. Our Vietnam Travel Group's cycling tour in Hue offers you a wonderful chance to explore this ancient city, so why don't you join us right this summer vacation?
A glimpse of Hue, Vietnam
Hue is a national-level city of Vietnam and used to be a feudal capital of Vietnam under the Nguyen dynasty. Currently, the city is the center of many aspects of the Central region such as culture, politics, health, education, tourism and science and more. Hue is known as a dreamland, a land of the ancient capital, even though it has survived for hundreds of years but still looks ancient, gentle and immersed as if time still slows down here.
In addition, Hue not only has ancient relics. Being the center of the central strip of land, Thua Thien - Hue province in particular and Hue city, in general, are favored by nature when lying in the middle of the many beautiful scenes of the sea, rivers, mountains, passes, etc. What are you waiting for, let's join the Hue travel experience and start dreaming of a peaceful walk, without any haste, to slowly enjoying the beauty of the land of the past.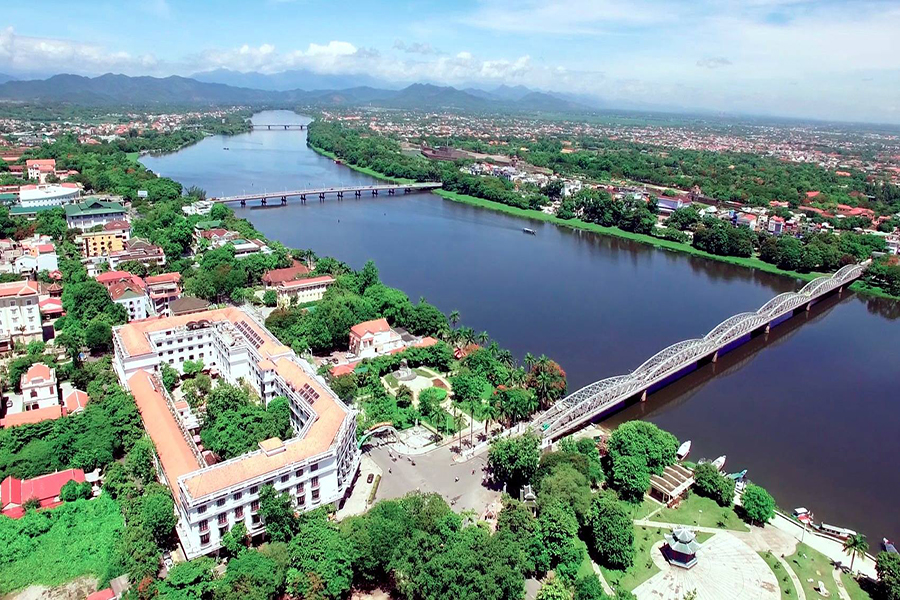 Hue is a beautiful, friendly and peaceful city
Located in the transition zone between the South and the North, the weather in Hue is a combination of both regions, reducing the harsh part and also quite moderate. The rainy season in Hue starts from May and lasts until November, the peak time of the storms and floods, so it is necessary to monitor the weather before making the trip. Although Hue does not have a clear winter like the Northern provinces, the temperature is not high, it may be lower than 10 degrees.
In Hue, there are many historical places you can visit such as Dai Noi Hue, the King's tombs, the pagodas and more. Coming to those places, you will have an impressive insight into the magnanimous history of Vietnam. Plus, there are also numerous breathtaking natural sceneries where you can take hundreds of stunning pictures, which surely will make your friends envy.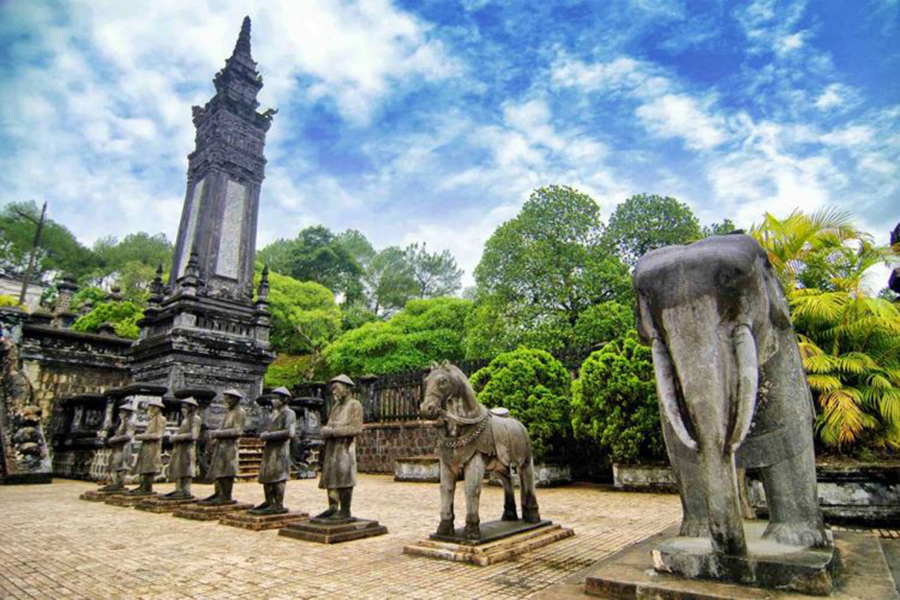 Hue is famous for historical relics and breathtaking natural lands
Once more interesting way to discover many other charming of Hue ancient capital is to make a cycling trip around the countryside. Spending one day on a bike by yourself, a guide will take you to the rural to admire and enjoy interesting scenes and local life. You will also enjoy the relaxing ride along the Perfume River on the Dragon Boat Trip. That's what makes Vietnam Travel Group's tour so unique and awesome. Why don't you join us right this summer vacation?
Your cycle route in Hue, Vietnam
Our friendly English-speaking guide from Vietnam Travel Group will see you at your Hotel at 08:00 AM, and transfer to Toa Kham Boat Station, we will then take a Dragon Boat Trip on the romantically named Perfume River and visit Hue's best-known religious site, the Thien Mu Pagoda.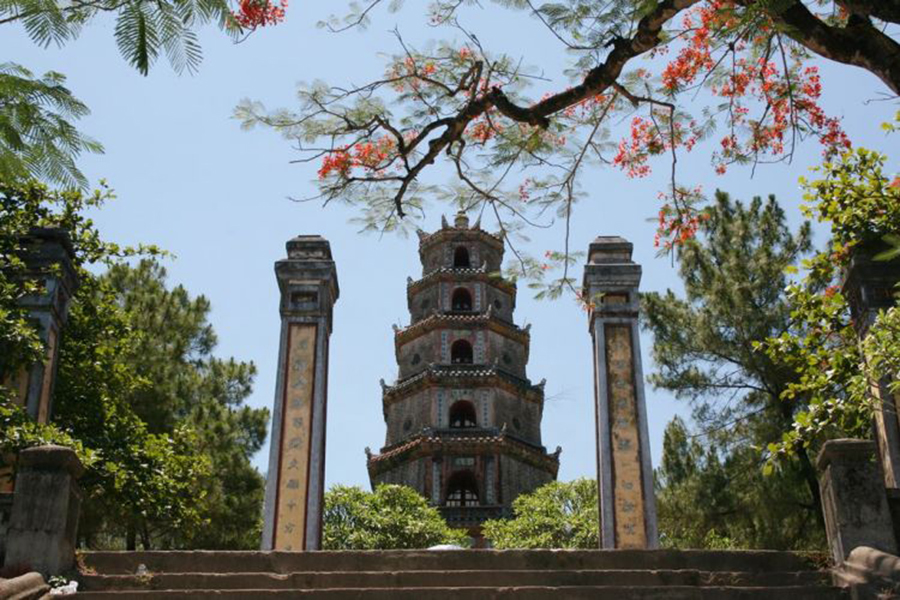 The entrance to Thien Mu Pagoda, Hue, Vietnam
Another 10 minutes by boat and we will disembark and cycle to Tiger Arena and Trumpeting Elephant. Then you shall keep cycling to Emperor Tu Duc's Tomb, one of the most beautifully designed complexes among the tombs of the Nguyen dynasty. Then visit some traditional Incense village where you may try to make some incense by yourselves. This will be followed by lunch at a lovely Vietnamese restaurant.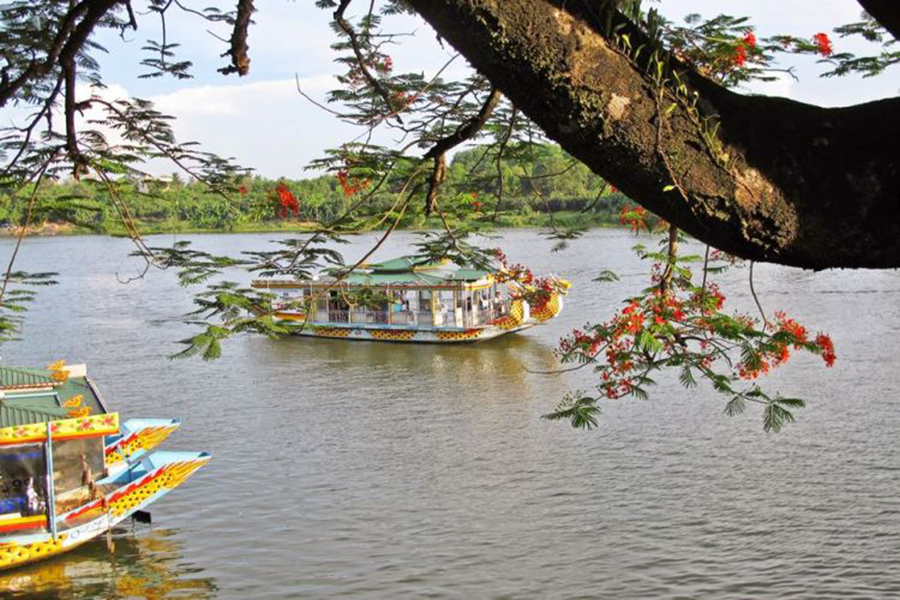 The Dragon Boat takes you to an amazing tour on the Perfume River
After lunch, you and the crew continue cycling to Khai Dinh Tomb along the river with fabulous countryside roads. These are the most interesting and unique cycling roads in Hue city. After visiting Khai Dinh Tomb we cycle back to the city. The tour will end at our hotel around 17:00 PM.
Cycling is a wonderful and ideal way to improve both your physical and mental health. Cycling in the middle of the peaceful countryside will only make it better. After the trip, you will have the most relaxing, healthy and amazing time of your life. What can be a better way to get rid of all the tiredness and gain some happy memories?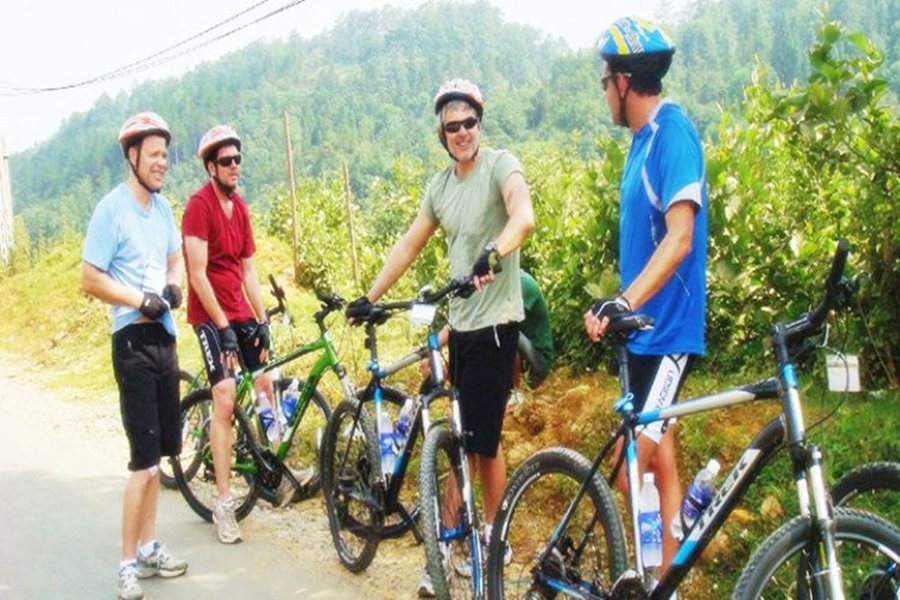 This Hue cycling tour will give you an amazing time with your partners
To book for yourself a tour with the reasonable price right away, just contact Vietnam Travel Group and let us do the work. With this astonishing city, you will have the most wonderful holiday in the S-shaped country. We Vietnam Travel Group guarantee to provide you everything you need for a perfect vacation.
We hope to meet and travel with you soon.
vietnamtravelgroup.com