29 June, 2019 VNTG
If you ask me which is the most beautiful city in Vietnam, I will say it's Da Lat. And what can be more amazing than cycling in a whole day in this breathtaking city? Join Vietnam Travel Group for a cycling tour in Da Lat will give you such an amazing experience.
Introduce you Da Lat – a famous tourism city in Vietnam
Da Lat city is the capital of Lam Dong province, located on Lam Vien plateau, in the Central Highlands, Vietnam. Since ancient times, this land is the residence of Lach, Chil and Sre people of Co Ho ethnic group.
In the language of K'ho, Da or Dak means water, river, stream, and Lat is the name of the tribe of the ethnic K'ho. So Da Lat is the stream of Lat people. For over 100 years this city of fog has many different interpretations and meanings. But today, we return the original meaning of Da Lat. It is a stream of Lat people, a homeland of Lat people, a member of the Vietnamese ethnic family.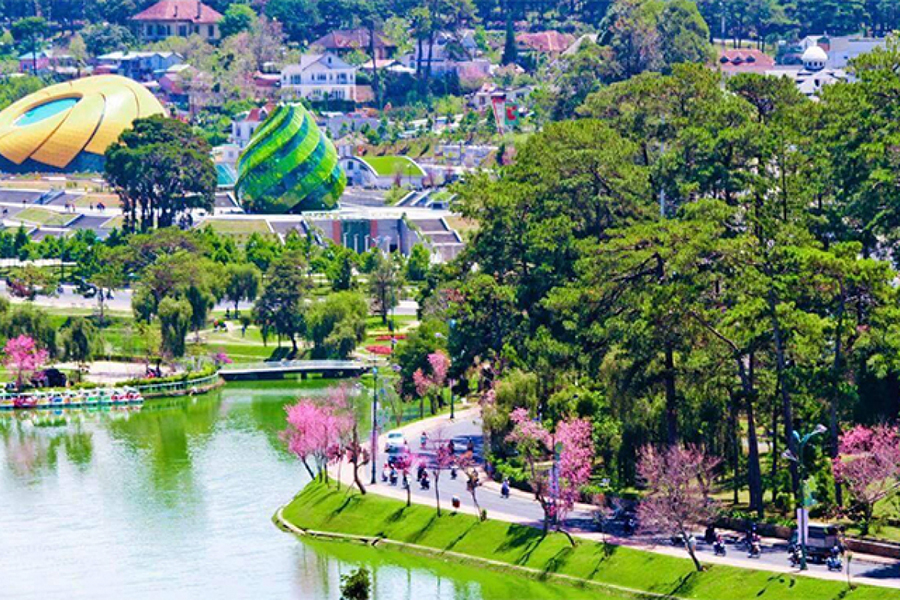 Da Lat is a breathtakingly beautiful city of Vietnam
Visitors to Da Lat have just been visited, enjoying specialties including many fruits: pink, plum, peach, avocado; many unique ethnic dishes and souvenirs of this plateau.
The beauty of Da Lat is praised and attracted visitors by hundreds, thousands of unique flowers and orchids. Either be produced separately on this land, or get varieties from many places such as France, England, Netherlands, Japan, Taiwan, Hong Kong, India, Italy, such as roses, immortal flowers, bean flowers azaleas, flowers of firecrackers, idyllic flowers, camellia flowers, skin tissue, cherry apricot, white narcissus and more.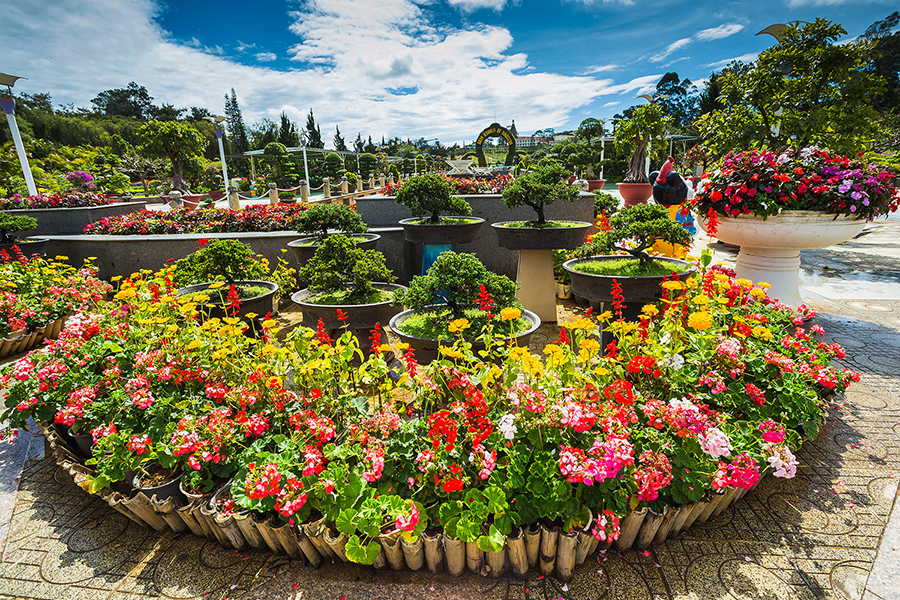 Da Lat is famous for many colorful flowers
Da Lat has many other outstanding destinations that will blow your mind. Cycling is also a wonderful way to travel, so why don't you join Vietnam Travel Group for this amazing cycling tour in Da Lat right away?
How will you cycle in Da Lat, Vietnam?
The day tour starts from Da Lat with a pick up at your hotel by guide and driver from Vietnam Travel Group and head out to the east, passed Xuan Huong Lake and up through an area of flower farms. The city road turns from well-paved road to dirt road after 6 kilometers and meanders around Victory Lake before turning to single track.
After this single track section, we connect into a pine forested valley area to the east of Da Lat. This is where the hill starts to rise up in front of you. The trail varies between a wider dirt trail and technical single track. This section of the ride has great rolling sections, some very tough hills and steep descents.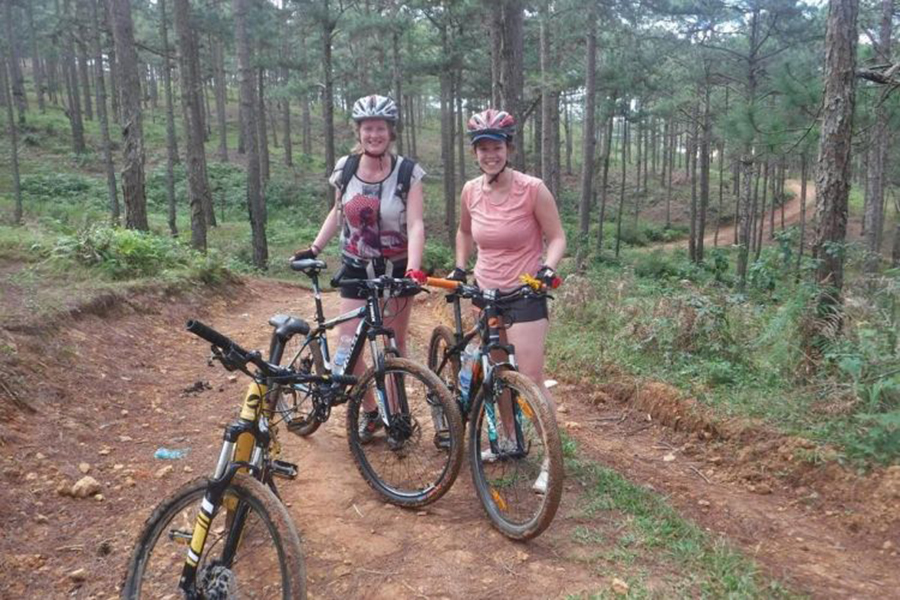 The cycling journey will bring smiles to your face
After we have pounded out the steepest (but one of the shortest) hill on the ride, we come to a beautiful clearing that looks out over the forested area to the north of Da Lat. We take a well-earned rest here to have lunch. Da Lat is known as the vegetable garden of Vietnam and lunch offers you a chance to try some of Da Lat's tasty product.
After lunch, we head out of the forest and back into the beautiful farmland area that sits at the mouth of the valley. We briefly overlap a section of trail ridden earlier and head back to Da Lat on sealed road to complete a lopsided, crazy looking figure 8.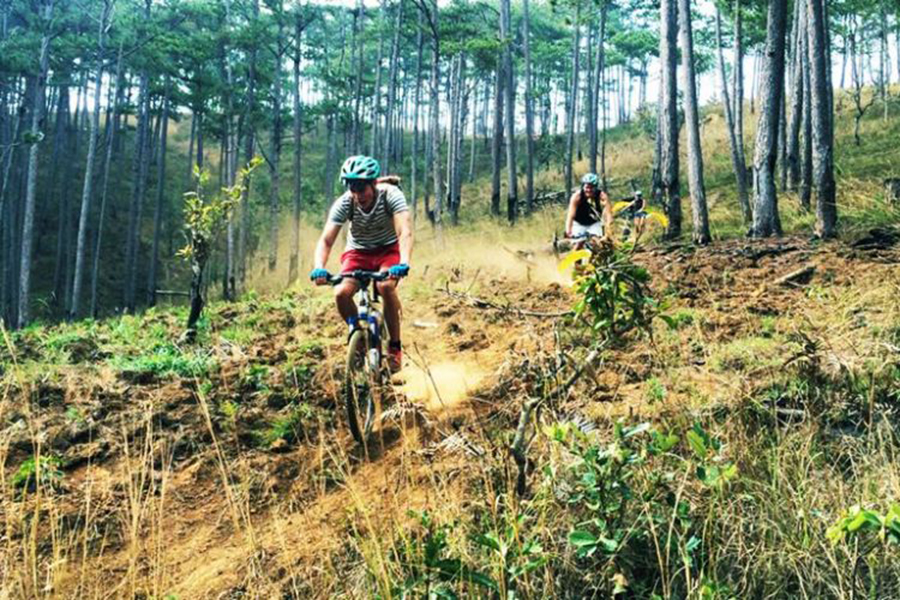 Many customers have had a great time cycling in Da Lat
The total ride covers about 37 kilometers and moves from Da Lat at 1500 meters to an elevation of around 1650 meters and then back down again. A great ride for those looking for varied terrains, a challenge and something slightly technical. The tour finishes at your hotel.
What should you bring to cycle in Da Lat?
The distance of the biking day is varied and depending on the durability of the biker. You can choose between three options, which are the 25 - 35 kilometers one, the 35 – 55 kilometers one and the 55 - 85 kilometers one. All of them are quite a long way, so you need to make sure to bring the necessary things with you.
You should sports shoes or trekking shoes or comfortable shoes with good grip to cycle in the most comfortable way, and a backpack to carry your pieces of stuff. Some snack such as dry fruits, energy bar, chocolates, etc. will also be needed.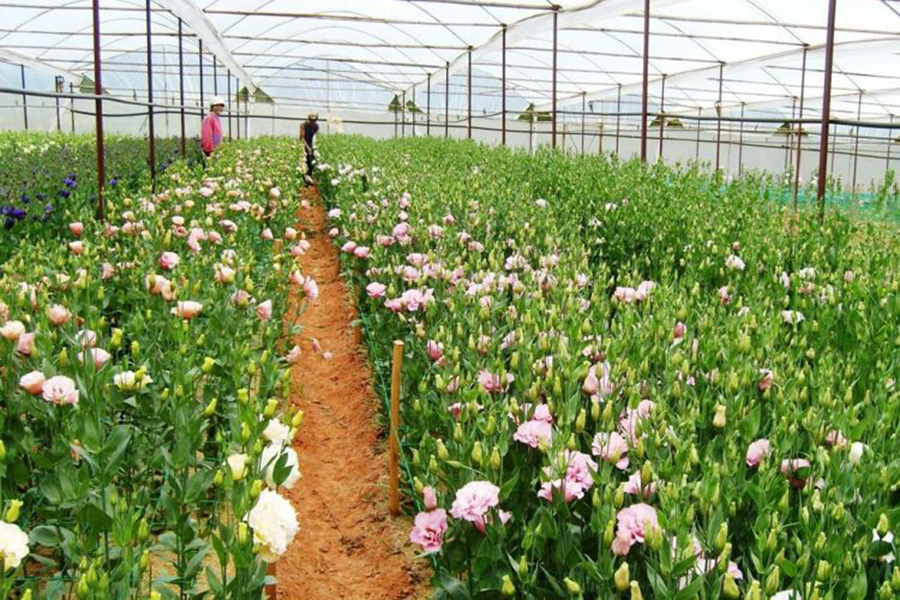 Make sure to bring necessary stuff for an amazing day in Da Lat
If you have any sickness, make sure to bring personal medication in case of emergency. You can bring track pants and a cotton T-shirt if need changing as well. To protect yourself from the weather, don't forget sunscreen/cap, or raincoat in case its rain.
The camera is optional, though we highly recommend you bring one to capture all the magnificent beauty in Da Lat city, Vietnam.
Are you ready for one of the most memorable days in Da Lat, Vietnam? Then don't wait for any more, contact Vietnam Travel Group and book our cycling tour in Da Lat right now!
Vietnam Travel Group is happy to serve you in Da Lat – the famous tourism city of our beautiful S-shaped country. We hope to see you soon!
vietnamtravelgroup.com