30 June, 2019 VNTG
Cu Chi Tunnels and Mekong Delta are both famous tourism destinations in Vietnam. Vietnam Travel Group is amazingly honored to introduce you this private 2 days tour to discover all those wonderful places in our S-shaped country. The services will absolutely not disappoint you.
What is Cu Chi Tunnels and Mekong Delta, Vietnam?
Cu Chi Tunnels is located about 70 kilometers from the center of Ho Chi Minh city. This is a smaller version of the military basement of Cu Chi army and people in the resistance against the 30 years of independence and freedom for the country. This tourist area consists of 2 parts which are 13 kilometers apart: Ben Duoc Tunnels is located in Phu Hiep Hamlet, Phu My Hung Commune and the main tunnel area.
Cu Chi tunnels are about 250 kilometers long, from the wide tunnel "backbone" like spider webs in the ground, including works such as tunnels, trenches, mounds, battlefields, food tunnels, sleeping, meeting, kitchen, water wells, stockpiles, etc. The structures are connected to each other or can independently terminate, depending on terrain. Some tunnels flow into the Saigon River in case of a critical situation, so people can cross the river through Ben Cat base (Binh Duong).
Inside Cu Chi tunnels are dark and lack of air, in many sections, visitors have to stoop to be able to walk. But that is what makes people enjoying visiting this unique tourism site in Vietnam.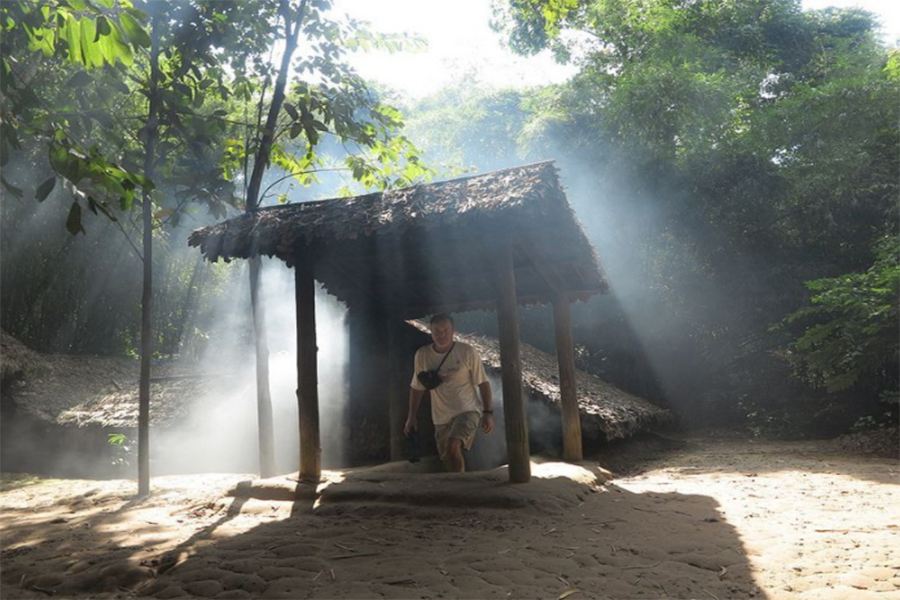 The entrance to Cu Chi tunnels
The Mekong Delta is the southernmost region of Vietnam, also known as the Southern Delta or Southwestern region. The Mekong Delta may have been formed from a bit of wind, a bit of sunshine, a bit of silt a little bit of water and warm people. Referring to the Mekong Delta, we have to mention Can Tho, Dong Thap, Ben Tre, Hau Giang, Ca Mau, Kien Giang ...
When coming to the Mekong Delta, in addition to visiting the vast fruit orchards, you also can go on one of the nine rivers that flow into the sea of the Mekong River, listen to tai tu singing and enjoy the specialties of Southern tourists. It is also hard to ignore visiting floating markets - a feature only in the West of the river.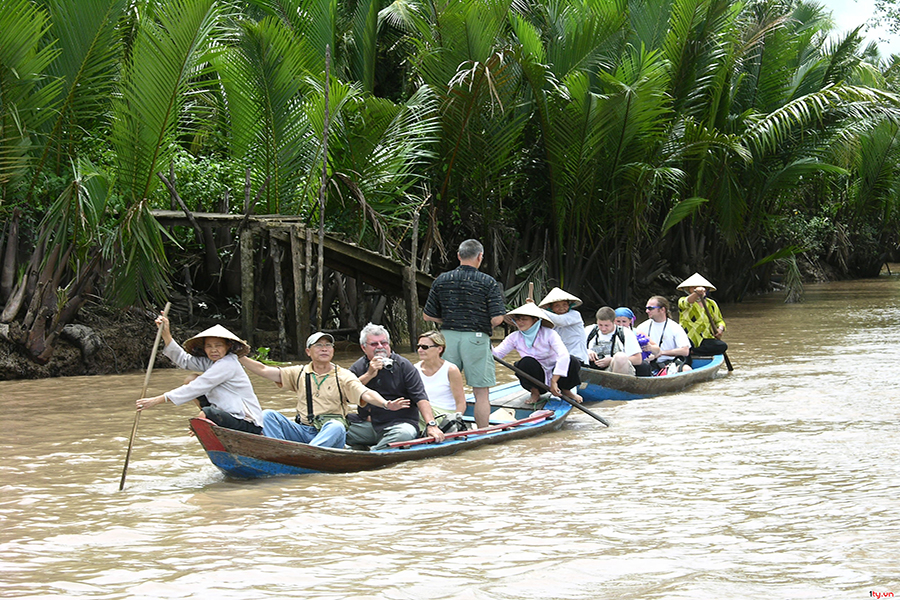 Mekong Delta has become a famous place for foreign tourists
Are those enough to attract you? Let's find out how Vietnam Travel Group's 2 days tour goes and you will definitely fall in love with it.
Day 1: Ho Chi Minh - Cu Chi Tunnels - Cai Be - Can Tho
We shall begin by departing from Vietnam Travel Group office or pick you up at your hotel. We are taking you to visit Cu Chi Tunnels, which is 60 kilometers from Ho Chi Minh City. Cu Chi is now considered a heroic district for the role it played in the Vietnam War The famous Cu Chi tunnels are a huge underground 220 kilometers network. The tunnels were once used as a military base for the Vietnamese Soldiers resistance to the US forces during the Vietnam War and often used as hiding spots or spy activities.
Along the way to Cu Chi from Ho Chi Minh city, we will pass by the scenic local countryside, where you might even spot ducks and buffalo cooling off in the river. You will find it hard to imagine the destruction and damage that once dominated the area, caused by bombing and mines when Cu Chi was "a free target zone."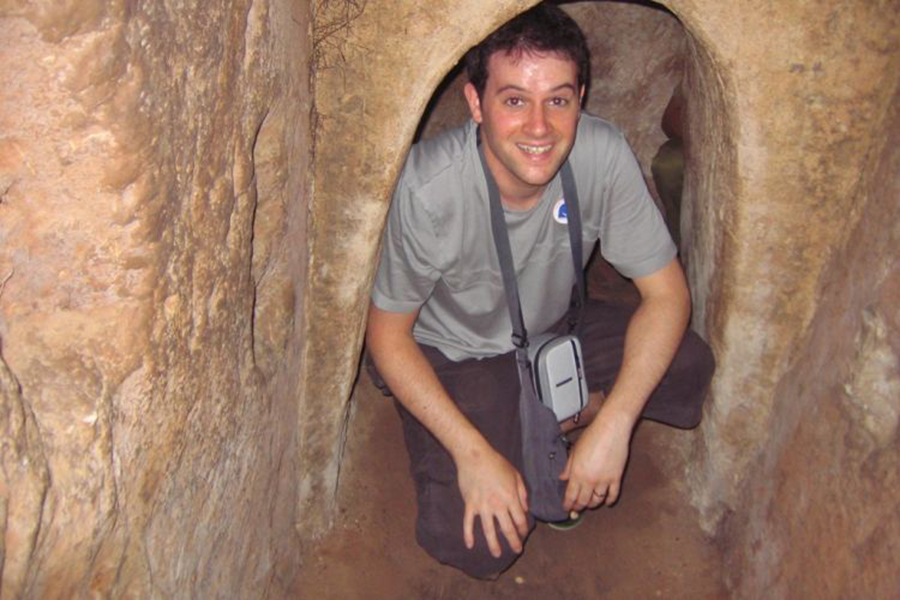 Tourist having a great time exploring Cu Chi Tunnels
In the afternoon, we depart from Cu Chi to Mekong Delta for two hours by car. On the way to Cai Be, we stop by at a restaurant to have lunch with Vietnamese cuisine. Once arrive Cai Be, you shall check in the homestay, take a rest, then biking along the countryside road to get to know the locals going about their day.
AT 17:00, you attend a cooking class with a local chef. Dinner will be served once the cooking class is finished.
From 19:00 is leisure time! Stay overnight in the Bungalow Or Homestay (Vinh Long).
Day 2: Can Tho - Cai Rang Floating Market - Ho Chi Minh City
Being your second day with Vietnam Travel Group's tour by having breakfast at the hotel/homestay. We will take a leisure boat trip to explore the picturesque tributaries of the Lower Mekong River (Bassac River) then visit Cai Rang floating market which is the liveliest one in the whole of the region.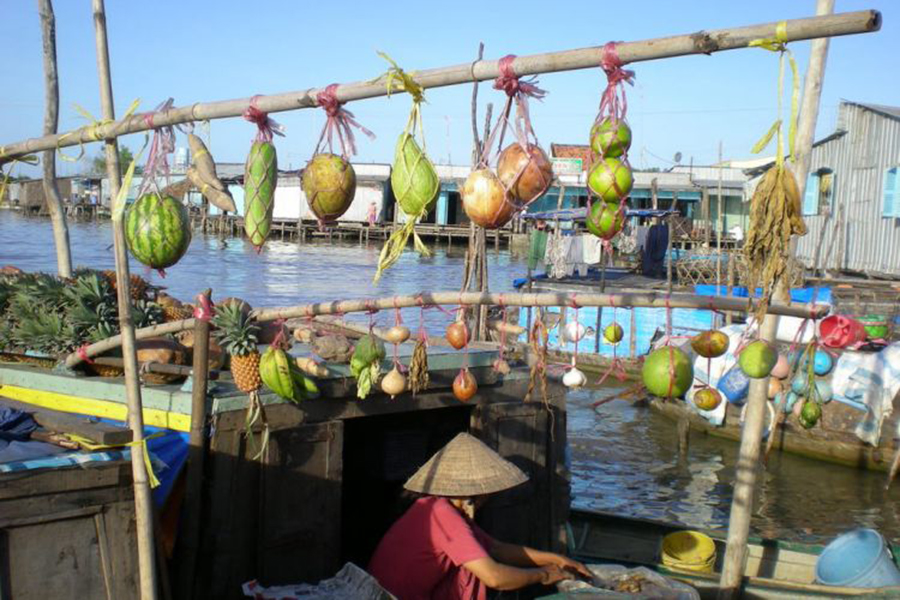 Cai Rang floating market is where you can buy various Vietnamese products
After that is the walking trip to visit the fruit plantation and local noodle factory, then visit Binh Thuy communal house and Munir Ansay Pagoda - a Khmer pagoda, renowned for its unique structure.
In the end, you will have lunch and return to Ho Chi Minh City.
Excited for an amazing vacation in Cu Chi Tunnels and Mekong Delta, Vietnam? Then contact Vietnam Travel Group and book a tour with us right now! Don't miss the chance to turn this summer vacation of yours into one of the most memorable time in your life.
Vietnam Travel Group is honor and eager to serve you with the best vacation in Vietnam. Are you ready to explore with us?
vietnamtravelgroup.com