04 April, 2019 VNTG
Among the places that preserve the culture value of Vietnam, Bat Trang ceramic village is one of the most famous destinations. Located near Hanoi, so you can travel there by cycling – environment-friendly transportation and also very good for your health.
What is Bat Trang Ceramic Village?
Bat Trang ceramic village is located along the Red River in Gia Lam district, a suburb of Hanoi. The name Bat Trang means "the big yard", and the village has a history formed during the Le Dynasty. This is the oldest and most famous pottery village in Vietnam, as well as a place where domestic and foreign tourists cannot stop visiting. Bat Trang pottery village specializes in producing various types of ceramics. Each product has different styles and sizes, all of them are breathtaking and eye-catching. The most interesting thing when coming to Bat Trang is that you can directly see the artists making exquisite ceramic products or hand-crafting the products at will.
Being a tourist of Bat Trang ceramic village, you will likely have the desire to set foot on this beautiful land to mold your own products made of ceramic and porcelain glaze. Just by spending a reasonable amount of money, you can become a potter who is really spoiled for creating products from clay and turntable. Although at first, it may be a little embarrassing when you do not know how to use it, you will receive enthusiastic instructions from the skilled potter in Bat Trang ceramic village. After you complete the "masterpiece", the product will be burned to take home. So you can unleash the virtual image to show off your friends, relatives and artworks, right?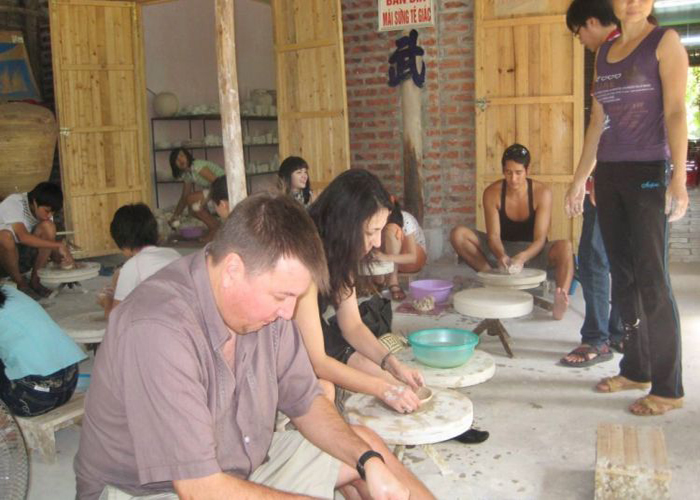 Tourists coming here can try making their own pottery product
You can also visit the ceramic market. This market is a place where you can find lovely souvenirs that are both cheap and unique. Pottery market stalls sell lots of ceramic products such as bowls, cups, ornaments, worship items and so on, which are extremely beautiful. All products here are made from the hands of famous artists. You can observe and record the process of kneading ceramics at the mini-ceramic yards in the market.
Coming to Bat Trang ceramic village, you can also enjoy the delicious specialties here. You can stop at shops along the market to taste some snacks such as baked cassava cake, hot cakes or rice, vermicelli... with a very cheap price. You can't find another wonderful way to experience the fine and appetizing cuisine of Vietnam.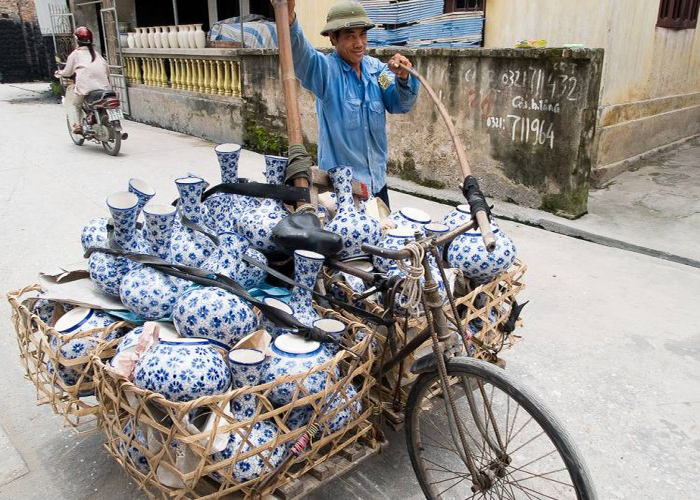 Bat Trang ceramic village is where numerous pottery products are made and preserved
Bat Trang is a familiar destination for tourists who prefer the traditional culture of Vietnamese ceramics village. Just less than 15 kilometers from central Hanoi, this is the ideal place for weekend excursions, also the perfect destination for an interesting cycling tour. What are you waiting for, let's join Vietnam Travel Group's cycling tour to this amazing culture relic of the S-shaped country right now!
More detail about our Bat Trang ceramic village cycling tour?
Joining the tour, you will be provided with modern bicycles and helmet to guarantee safety. From the early morning in your hotel in Hanoi, our friendly English-speaking tour guide picks you up and gives you a brief description of the itinerary for the day. After that, you will start cycling to the amazing ceramic village!
When cycling from the city to the outskirt of Hanoi, you will witness the interesting change in the sceneries, from the buildings and the bustling vehicles to the peaceful rice fields, cornfields, vegetable farms and fruit farms, where local farmers grow their crops and earn money. This is another side of Vietnam that not many people aware of. Stay away from the busy life of the city, these places give people the calming scent that is hard to find in other destinations.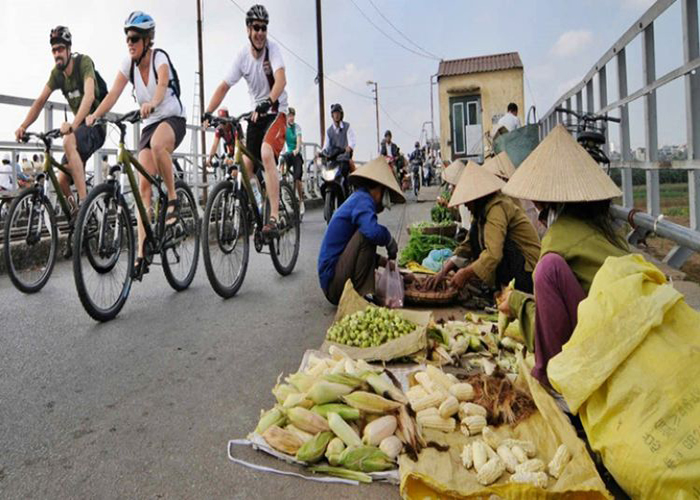 Cycling is a wonderful way to sightsee the beautiful landscapes
On your way, you will cycle along the Red River – an astonishing water landscapes where holds the most remarkable historical value of Vietnam. The peaceful environment here can help you relax and forget all the tiredness from daily life. Don't forget the legendary Long Bien Bridge – one of the oldest structures of the capital of Vietnam. These wonderful highlights of Hanoi shall give you the best memory ever.
And then, you will reach Bat Trang ceramic village, where you can experience numerous splendid activities as mentioned above. The products here represent the cultural tradition of Vietnam, so through them, you can have a much clearer vision about the customs of Vietnamese ancestors. You also get a chance to shop at the largest ceramic markets in Hanoi, then visit the local oldest craftsman's house to learn about the history of this handicraft village and steps of making a handicraft pottery product.
Not only making pottery crafts, but you can also join another amazing activity. After finish visiting Bat Trang ceramic village, you can join a short trip on a local ferryboat passes the Red River to Thanh Tri village. This boat trip provided by Vietnam Travel Group will surely give you amazement. Thanh Tri has been well-known for its rolled rice pancake for many years, so don't miss the chance to experience it yourself. Then, you stop by a local family to learn all the steps of making rolled rice pancake. After that, go and have fun making your own under the instructions of local villagers. This will be a great skill for you to treat your family with some delicious food.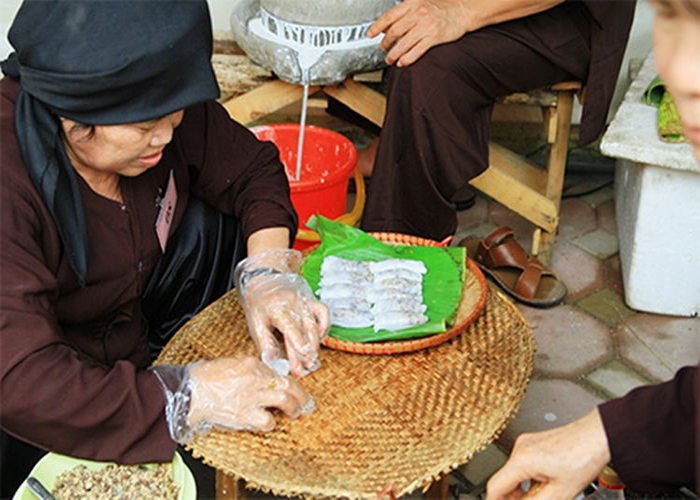 A local farmer is helping tourists to make rice pancake
Once you finish your lunch with the super delicious pancake, you will start cycling back to Hanoi. A bicycle is an environment-friendly transportation, which means by riding it, you will not release any gas to the air, protect the atmosphere. The riding trip also gives you a great opportunity to work out, therefore improving your physical health and making your body stronger. At the end of the tour, you might feel tired, but the experience and memory have totally deserved the effort.
Excited for a wonderful, healthy and environment-friendly with the ancient but beautiful Bat Trang ceramic village? Then don't wait anymore, visit vietnamtravelgroup.com and book a tour with us right now. If you have any questions, just contact us and all of your problems will be solved.
Vietnam Travel Group is thrilled to take you to Bat Trang ceramic village, Vietnam. Are you ready to explore the most remarkable culture value of our S-shaped country?
vietnamtravelgroup.com