15 May, 2019 VNTG
Ho Chi Minh City is one of the most famous tourism cities in Vietnam. The Ho Chi Minh City shore excursion from Vietnam Travel Group can be the perfect choice for you to have a wonderful time in this amazing city of Vietnam.
Some basic information about Ho Chi Minh City, Vietnam
Before deciding on a tour in Ho Chi Minh City, you should know some incredible information about the city, to be able to understand why it is so loved and admired.
Ho Chi Minh City is famous for its bustling lifestyle and the hospitable the local people. The place also attracts thousands of tourists from both domestic and from all over the world thanks to its numerous natural wonders. Every year, there is a huge amount of visitors from all part of the world stop by to discover amazing places.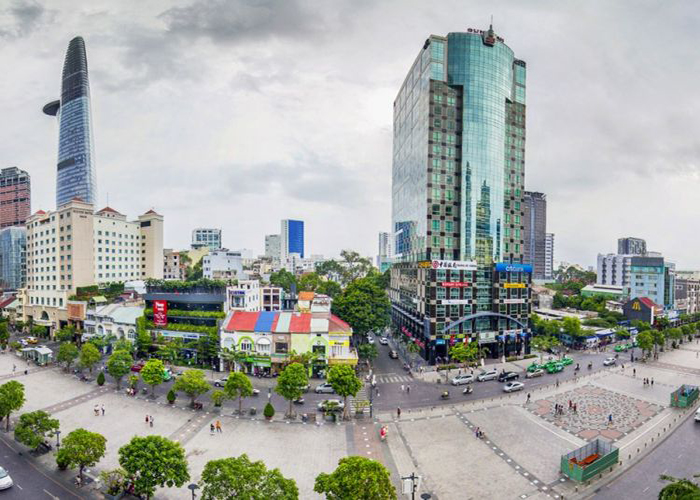 Ho Chi Minh City is a beautiful, friendly and amazing tourism destination
Traveling to Ho Chi Minh City, also known as Sai Gon, the city with more than 300 years old, you can meet high-rise buildings, entertainment areas, shopping centers, as well as the ancient villas. Ho Chi Minh City is filled with tourist attractions such as Sai Gon River Cruise by boat, visiting Ngu Lao Pham Lao Street, shopping at Ben Thanh Market or going to Can Gio Beach...
In Ho Chi Minh City, the weather is almost hot all year, the average temperature is about 27 Celcius degree and the peak time of sunshine can reach more than 40 Celcius degree. There are two distinct seasons which are the rainy season and the dry season. The rainy season starts from May to November, and note that if you come here at this time, never forget to bring with you umbrellas because at this time the rain always visits without notice. The dry season usually lasts from December to April.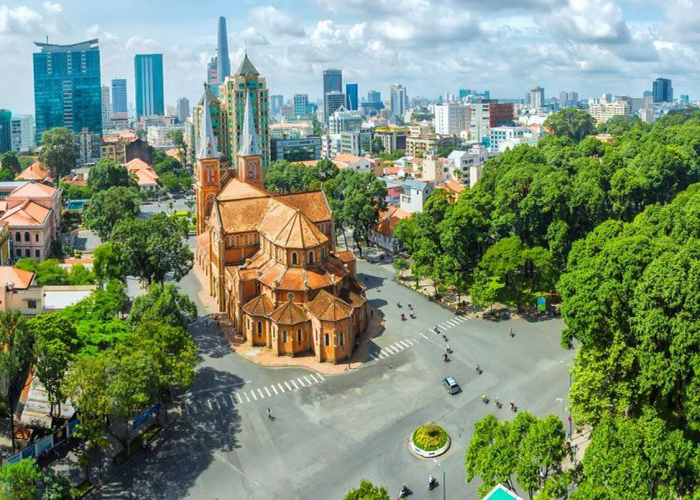 Ho Chi Minh City is often drenched in sunlight, sometimes with unexpected rain
Ho Chi Minh City has been attracting many people from all over the world. Why don't you join Vietnam Travel Group's Ho Chi Minh City tour right now to discover all the amazing elements of this beautiful place?
Your schedule in the Ho Chi Minh City tour
At the day of the tour, our friendly English-speaking tour guide and driver will pick you from Phu My Port - Vung Tau. From then you will devote a day to discovering the historical and cultural treasures of Ho Chi Minh City with a private guide at your service.
After exploring sites such as Independence Palace, the War Remnants Museum, and the Jade Emperor Pagoda – which are all the famous tourist's destinations of Ho Chi Minh City, Vietnam, spend time wandering Chinatown and the lively Ben Thanh Market.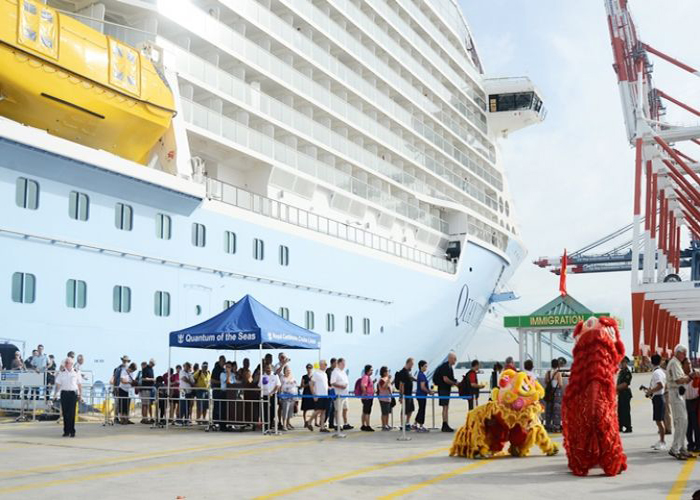 Tourists being picked up at Phu My Port
After that, starting the day with convenient pick up from Phu My Port and travel northwest into the heart of Ho Chi Minh City. As you explore its bustling center, find yourself in the midst of broad squares, colonial-era buildings, and stately pagodas. Discover a striking example of French influence at the Notre-Dame Cathedral, and immerse yourself in Vietnam's war history with visits to the Independence Palace and War Remnants Museum.
After a stop for lunch in a local restaurant, you will have the opportunity to admire the Jade Emperor Pagoda, a Taoist landmark in which you can find immaculate wood carvings and statuaries. Then, you and the group shall spend time exploring Cho Lon, also known as Vietnam's Chinatown. Then you can stroll among traditional architecture and learn more about the importance of Ho Chi Minh's Chinese community.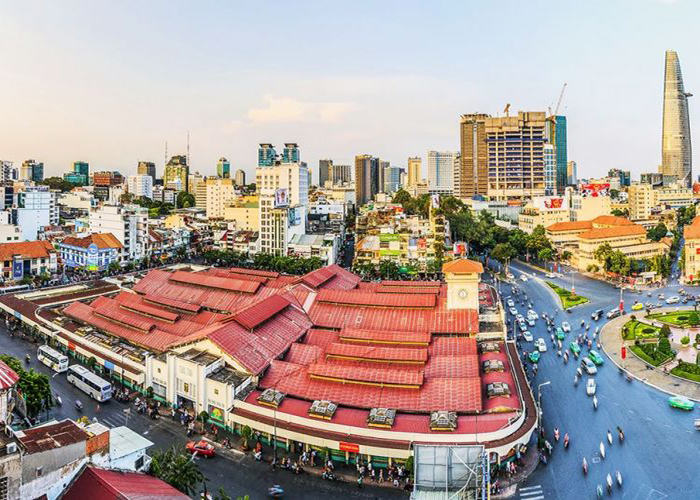 Ben Thanh Market from above
Your last stop of the day is the sprawling Ben Thanh Market, the largest of its kind in the city. You can discover an array of wares, from artisan handicrafts to traditional textiles, and perhaps purchase a snack from one of the many tempting stalls before your guide escorts you back to Phu My Port about 4:30 PM - 5 PM.
If you're excited for a trip to Ho Chi Minh City in just 1 day, please visit vietnamtravelgroup.com to carefully read all the information about the tour, such as the detailed itinerary, the policy, inclusions as well as exclusion and the price. If you have any questions, just contact us and the workers of Vietnam Travel Group will happily answer you.
Vietnam Travel Group also has a lot more exciting Vietnamese travel tours to please you. Don't be hesitate to join us and you won't be disappointed.
vietnamtravelgroup.com