27 June, 2019 VNTG
Sapa is an amazing mountainous city in Vietnam. Trekking in this beautiful place will be a wonderful choice for an unforgettable vacation. Why don't you join Vietnam Travel Group right away?
Introduce you to the beautiful Sapa, Vietnam
Sa Pa is a highland town in Sa Pa district, Lao Cai province, Vietnam. Located in the northwest of the country, Sapa contains many miracles of natural and human landscapes. The "town in the clouds" attracts tourists with majestic mountain views and unique experiences with the lives of ethnic minorities.
The natural landscape of Sapa is combined with human creativity along with the terrain of the mountains and hills, the green of the forest, as the picture has arranged in a harmonious layout to create a region with many scenes poetic attractive. It won't be a mistake to spend a vacation trekking in Sapa, Vietnam.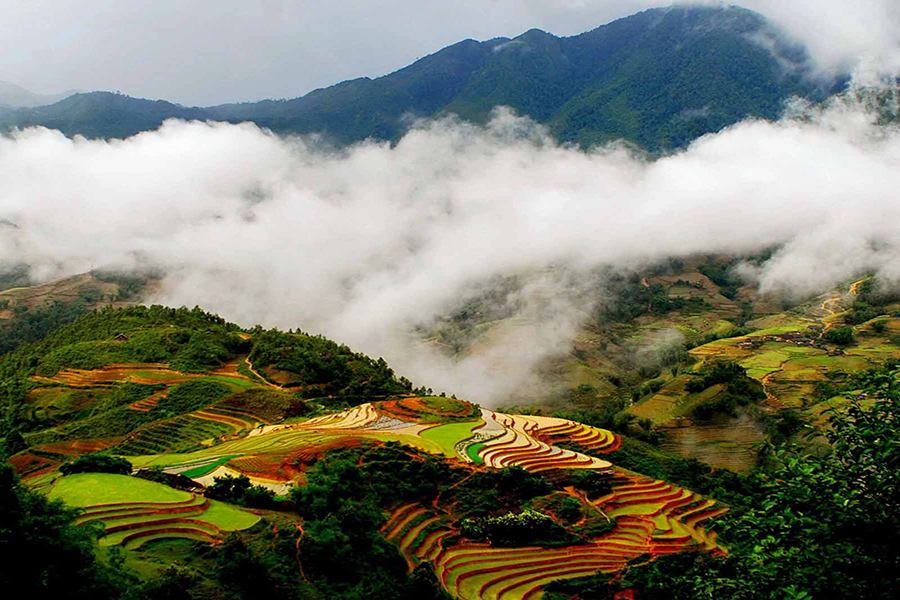 Sapa is called the "town in the cloud" for a reason
Sapa has an invaluable resource that is a cool fresh climate, with many diverse nuances. Located at an average altitude of 1500 meters to 1800 meters, Sapa climate is more or less a temperate color, with an average temperature of 15-18 Celcius degree. From May to August, Sapa has a lot of rain. At the end of the year, when winter comes, the temperature in Sapa can drop below 0 degrees, sometimes with snow. If you are tired of the summer heat, the cool weather of Sapa might be an interesting choice.
When traveling in Sapa, visitors will have the opportunity to conquer the famous Fansipan peak or make a dust trip to the hidden villages in the mist. The scenery of mountains and forests with hundreds of flowers blooming, "clouds embracing the mountains and mountains hugging the clouds" will surely please visitors when they arrive here.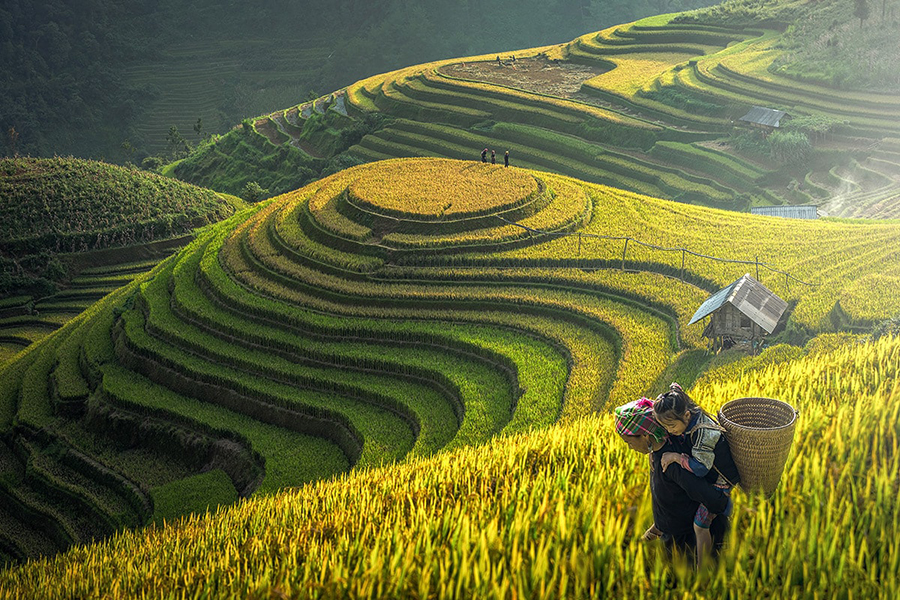 Sapa attracts people by its outstanding natural beauty
Vietnam Travel Group offers you a full day trekking tour in this amazing area name Sapa, Vietnam. Some exercises, as well as outdoor activities, will only do you more good than harm. This full-day trek from Sapa town along buffalo paths and trails and through several hill tribe villages will give you lots of opportunities for picturing the stunning scenery of Sapa and witnessing the life of minorities' life & cultures.
Instead of going to the beaches, a trip to the mountain will be a wonderful change for you this summer. Join Vietnam Travel Group right away and you won't regret it.
How will your Sapa trekking day be?
As mentioned above, this full day trek from Sapa town along buffalo paths and trails and through several hill tribe villages will give you lots of opportunities for picturing the stunning scenery of Sapa and witnessing the life of minorities' life and cultures. So don't forget to prepare a camera, as well as to be blown away by the amazing things in Sapa, Vietnam.
In the morning, at the appointed time, with a pick up at the hotel in Sapa by our guide from Vietnam Travel Group, you will start trekking down the valley along trails and across rice paddies to visit Black HMong village of Laochai and Dzay village of Tavan. The sceneries, as well as the people here, will surprise you with their hospitality and manners. Feel free to buy some souvenirs for your loved ones too.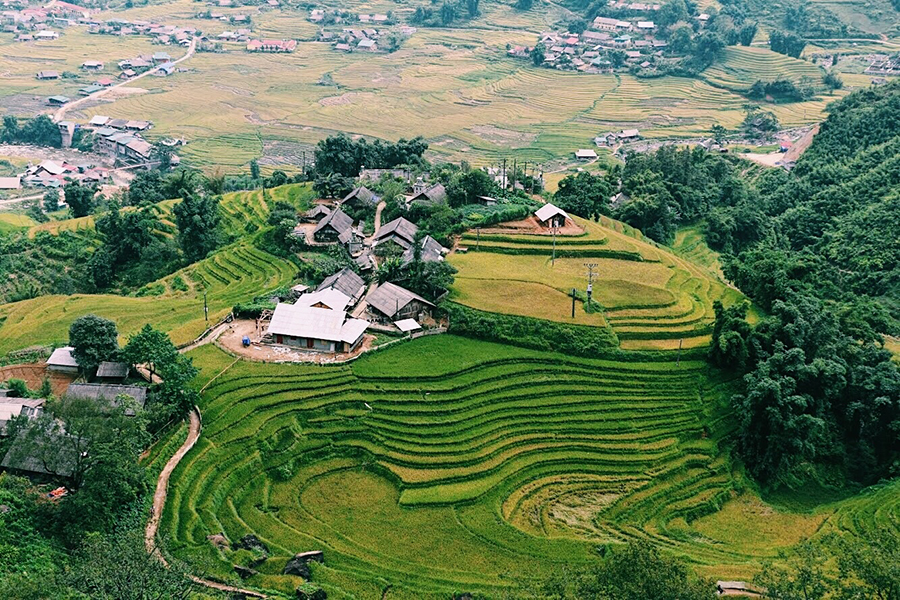 The sceneries of Ta Van village from above
While enjoying the beautiful scenery of the valley, you will be able to take some mind blowing pictures that can make your friends envy. You will have a great time to actually make contact with local minorities people, learn their culture and custom as well.
We have a picnic lunch along the way, to make sure you have enough energy for the journey. After that, we get picked up by car back to Sapa. Your tour ends. Our guide will farewell you with best wishes.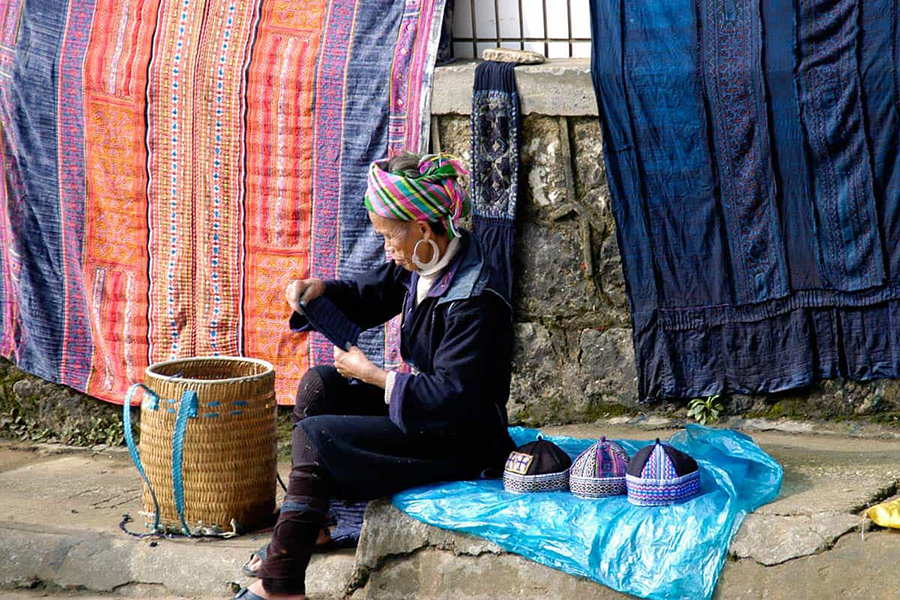 Join Sapa trekking tour, you can meet and buy products from Sapa's minorities as well
Please note that you will trek for at least 12 kilometers, so remember to prepare necessary stuffs such as sports shoes or trekking shoes or comfortable shoes with good grip backpack, dry fruits, energy bar, chocolates, etc., personal medication, some extra pair of clothes, sunscreen/cap and raincoat or poncho in monsoons. The camera is optional, though we highly recommend you bring one.
Trekking is a wonderful way to travel as well as discover the wonderful characteristics of Sapa, Vietnam. The activity also helps you improve both mental and physical health greatly. Instead of the luxury hotel, why don't you give the natural sceneries and the outdoor activity a chance? This Sapa tour surely will impress you.
Vietnam Travel Group is more than honored to serve you the best vacation ever in the beautiful, breathtaking and magnificent Sapa, Vietnam. Are you ready to have a cold summer with us?
vietnamtravelgroup.com