14 March, 2019 VNTG
Siem Reap is one of the most famous cities in Cambodia tourism, where thousands of travelers from all over the world have been visiting for many years. If you are looking for a traveling tour in Siem Reap but can't arrange your schedule, this half-day tour in Cambodia will be perfect for you. In less than a day, you will uncover every beauty of Siem Reap to bring home sweet and unforgettable memory.
Why is Siem Reap so popular?
In recent years, Siem Reap has been constantly developing to become a modern, joyful and friendly city. The tourism industry in Siem Reap nowadays is very developed, with beautiful, affordable resorts, and unique shops. There's no wonder that this stunning city has become the highlight of South East Asia. If you are planning to travel to Cambodia, you definitely can't miss Siem Reap.
The most interesting part of any trip in Siem Reap is to relax by the pool to cope with the midday sun. Visitors here can participate in many activities, such as visiting contemporary galleries, sophisticated shops and enjoying many delicious dishes; walk on the leafy river bank, leisurely taste delicious dishes on the old French Crossroads and immerse yourself in the bustle of Pho Tuu when it is dark. Siem Reap is a perfect city for relaxation as well as getting rid of the tiredness from daily life. Instead of fancy travel tours, you really should try joining a Siem Reap tour to truly understand this magnificent city.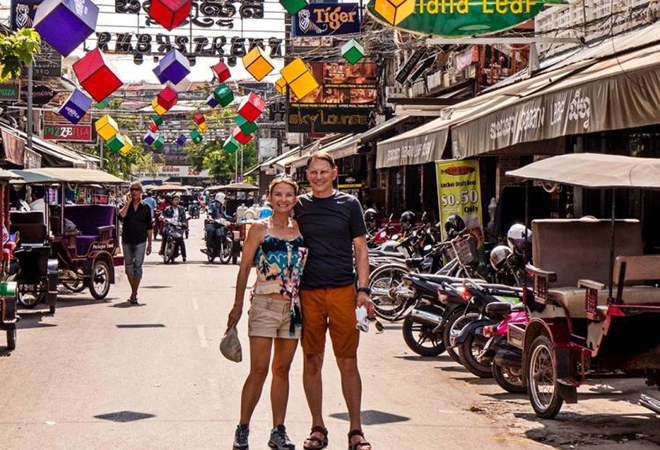 In recent years, Siem Reap has become a favorite travel destination for many foreign tourists
Like other areas of Cambodia, Siem Reap has hot and humid weather. The rainy season lasts from June to October, characterized by short but heavy rains. Pchum Ben (Festival of Ancestors) takes place in September and the Khmer New Year Festival is held in mid-April. The city's temples attract huge crowds on these occasions. Also, we can mention other outstanding events in this city such as the Angkor photo festival in November and December - the largest photo event in Southeast Asia, also the sale of marathon Angkor Wat takes place in December.
Siem Reap is considered a small city, with significantly upgraded streets and sidewalks in the past 5 years, making it easy for visitors to explore by walking or taking a tuk-tuk ride. Coming to Siem Reap, you will have a full experience of how it feels to live in Cambodia. Our Siem Reap half-day tour gives you the opportunity to explore most of Siem Reap in the shortest time.
What will you do in Siem Reap villages, Cambodia?
In spite of being a small area, Siem Reap villages have many splendid destinations for tourists to visit. Remember to bring a camera with you to take numerous pictures of the beautiful landscapes here. The weather in Cambodia, as told above, is often humid and hot, which is great for an adventurous trip. In just half a day, Vietnam Travel Group will take you to the most outstanding wonders in this simple yet lovely city.
One of the most interesting activities to do in Siem Reap is to wander around the bustling villages. This is the home of Cambodian residents, where they live and also the perfect place for you to learn about the day-to-day lives of the local people. You can learn so much more about Cambodian culture, customs and cuisine. The interesting things you can discover from the trip is guaranteed to be much more wonderful than the ones you learn from books or the Internet.
In addition to the markets with numerous items, visitors can shop at many "home-grown" shops in Siem Reap. The Old Market is full of shops selling Cambodian silk and spices, especially Kampot peppers, soap and herbal cream. Fashion clothes are also sold here. You can visit the shops to see and buy sophisticated tailor-made collections; high-quality silk designs; dresses cut with exquisite sewing; silver jewelry glittering under the sun... All of the items represent the unique customs of Cambodia, which will be the perfect souvenirs for your loved ones at home.
Besides the amazing shops and stores, Cambodia cuisine is also very worth trying. Siem Reap is proud of delicious dishes that can be compared to the food in anywhere in the world. You can try Khmer specialties like fried red ants and fried spiders. The street food here is also interesting to experience. The appetizing food made by local people will capture your attention from the very first sight.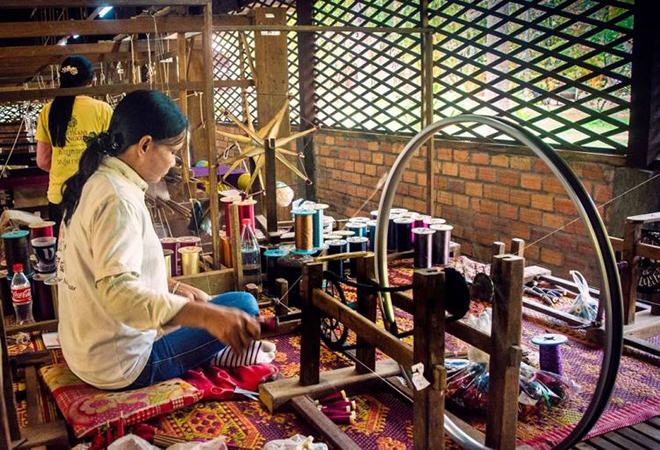 Visit Siem Reap villages to learn how people make such dedicated products
Not only the destinations told above, but Siem Reap is also famous for ancient pagoda with majestic beauty. Vietnam Travel Group's half-day Siem Reap tour will take you to the most outstanding ones, so you can enjoy the magnificent structure of the pagoda, as well as the magnanimous beauty of Cambodia.
Among the temples in Cambodia, Angkor Wat is the most prominent temple and is also truly a stunning beauty, but do not miss the other temples located further in the archaeological park. There is Angkor Thom temple with wide walls, covering the Bayon Temple, which is paved with 216 reliefs, creating a complex like a labyrinth. There's also Ta Prohm Temple covered by the intertwined ancient roots, one of the most exotic and unique structures of the population. Going further, the tree-lined Temple of Preah Khan and Banteay Srei has hardly been restored and there are still many elaborate carvings.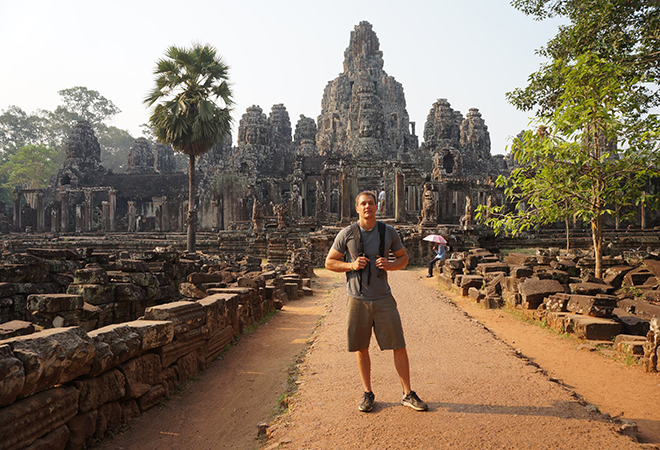 Angkor Wat is the most outstanding pagoda in Cambodia
Base on the weather and your likings, Vietnam Travel Group will choose the best ones to take you too. These breathtaking structures will absolutely blow your mind. After finishing the trip, you will have time to relax before going back home. The trip, although only lasts for half a day, will leave you such happy memories that you can't forget in a long time.
You can always visit vietnamtravelgroup.com to check out the detailed information about our Siem Reap tour. Do remember to read the policy, inclusions as well as exclusions of the tour carefully, and contact our staff if you have any questions or want to book a tour for yourself. Don't let this perfect chance for quality bonding time with your loved ones slip away!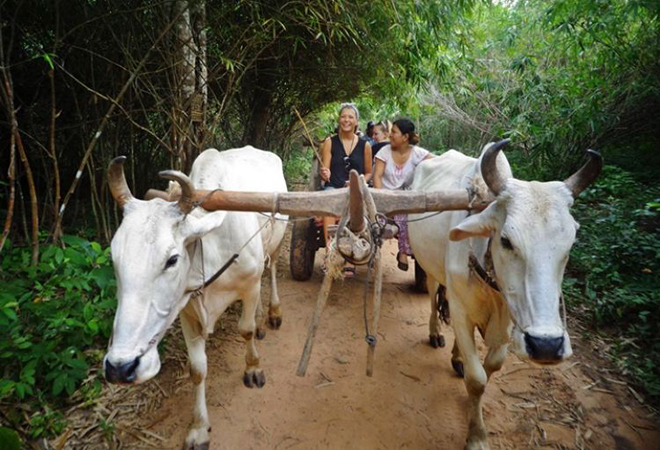 The peaceful vibe in Siem Reap will help you relax your mind greatly
Vietnam Travel Group has many years of experience in serving international customers and provides them with the best quality travel tour. So when joining our trip, you won't have to worry about the services. Our staff and tour guide will try their best to guarantee you the most wonderful vacation in your life.
Siem Reap is ready to give you the best time in your life. So are you ready to discover this magnificent city of Cambodia?
Vietnamtravelgroup.com