07 March, 2019 LJ
You may have seen numerous Cu Chi Tunnel tour before, but come to Vietnam Travel Group, you will experience traveling to the famous historical relic on a speedboat, which makes your trip become much more interesting. Along with exploring the Cu Chi tunnel, you will discover much more wonderful facts about Vietnamese history. This half a day trip won't disappoint you!
What is the Cu Chi tunnel? Why should join a speedboat tour to visit it?
Nowadays, Cu Chi tunnel is not only a special national monument but also an absolutely famous tourist attraction, which has been serving about 20 million domestic and foreign visitors throughout the years. Any visitors who are interested in Vietnamese history wants to come to Cu Chi tunnel at least once because this is such a popular destination that tourist cannot miss when traveling to Vietnam. This is the reason why recently, numerous travel tours to Cu Chi tunnel have been designed and serve millions of customers around the world.
>>>Cu Chi Tunnel - Cai Be Floating Market Package Tour Where Amazement Is Found
So what exactly is Cu Chi tunnel? In the past, the Cu Chi tunnel was a resistance base, a strong defense system deep in the ground of Vietnamese people during the Indochina War and the Vietnam War. Also known as the "underground city", Cu Chi Tunnel not only has a labyrinth tunnel system but also has many rooms, clinics, kitchens, warehouses, offices,... which are very convenient for Vietnamese people during the war.
One of the entrances into Cu Chi tunnel
For an overview of Cu Chi tunnel: this strategic place was used by 15,000 Viet Cong fighters during the war. This main axis system has many branches connecting to underground hideouts, shelters, and entrances to other tunnels. The tunnels are between 0.5 to 1 m wide, just enough space for a person to walk along by bending or dragging. However, parts of the tunnels have been modified to accommodate visitors. The upper soil layer is between 3 to 4 meter thick and can support the weight of a 50-ton tank and the damage of light cannons and bombs.
Coming to Cu Chi tunnel, you will experience the life under the tunnel like the ancestor of Vietnam. You will have the chance to visit and explore every corner of the 120-meter long tunnel system with 2 floors while eating food that local people used to eat when they have to hide in the tunnel. The experience will help you live the days in the Vietnamese history, and fully understand the struggle, the difficulties as well as troublesome of the war.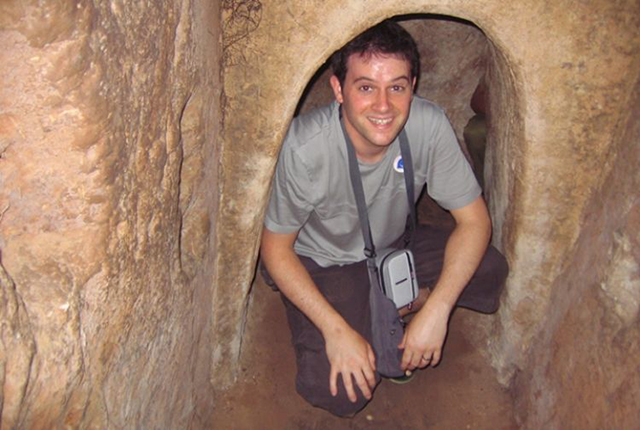 A visitor exploring a small corner inside Cu Chi tunnel
Cu Chi tunnel is the represent of the dangerous and serious war in the past of Vietnam. It's the place that witness the days fighting against invasion in Vietnam, witness the times when Vietnam were poor and had to suffer from the numerous wars and fight. If you are interested in Vietnamese history, this is the perfect destination for you.
Coming to Cu Chi tunnel by speedboat, your trip will be a lot faster, which saves you a lot of time to explore the place more. Speedboat is also an amazing experience that you make you feel the cool and fresh air of Vietnam. People usually go to Cu Chi tunnel by car or motorbike, sometimes bicycles too, so speedboat is a unique transportation that will make your trip become one-of-a-kind. So why don't you try out right away?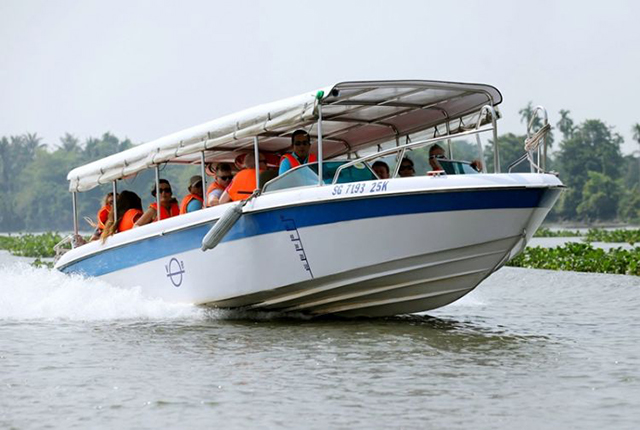 Speedboat is a unique transportation for traveling
Where else will you go on Cu Chi tunnel speedboat tour?
A trip will not be wonderful if you just visit only one destination. So Vietnam Travel Group will help you visit other places that help you understand more about Vietnamese history. Besides the Cu Chi tunnel, these places will surely make you awed.
On your way to Cu Chi tunnel, you will witness the interesting places along the river bank, such as Secret Cellar-Door, Shooting Range, Hoang Cam Stove and souvenir shops. These places represents the magnificent beauty of the Vietnamese lifestyle, as well as culture and society too. This lovely experience will not disappointed you!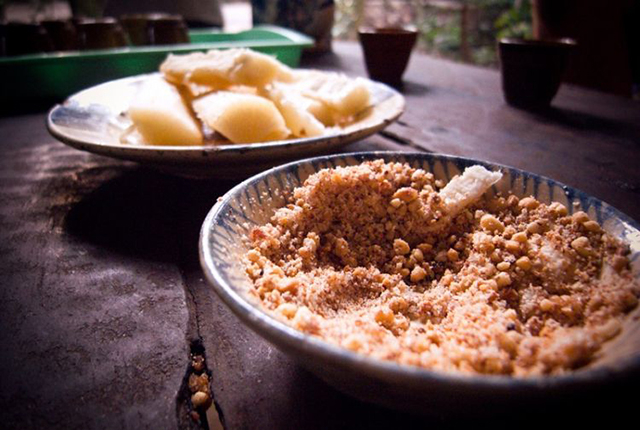 Tasting some local dishes is also a great way to explore Vietnamese cuisine
You will also see a Movie Theatre Room, where you will have a chance to see a documentary of lives under tunnels. You will imagine more clearly about the life under Cu Chi tunnel during the war, how Vietnamese ancestor have to live while fighting and hiding from their enemies at the same time. This will give you more chances to understand Vietnamese history.
Not only that, you will also see the Museum of Self-made Weapons & Garment-factory Ammunition, where there are numerous historical objects are displayed for visitors to see. These objects also have their own stories related to the old days in Vietnam. Watching those things directly with your own eyes will be much more interesting than watching their photos on the internet, so you won't be disappointed about coming to this place.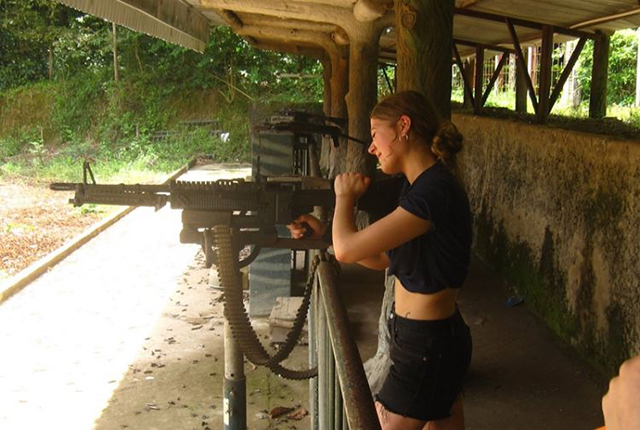 Visitors also have the chance to explore Vietnamese weapons used during the war
Although only last for half a day, this Cu Chi tunnel trip will give you wonderful chances to learn about Vietnamese history. The trip also last for half a day only, so you will save a lot of time to do other things that you want in this S-shaped country. Have you excited about this simple yet amazing and interesting trip yet?
Throughout the years of operating, Vietnam Travel Group has been a perfect and wonderful choice for international visitors to book a travel tour in this beautiful S-shaped country. We always try our best to give our customers the best vacation ever, with interesting itinerary, unique transportation as well as dedicated and thoughtful staff crew. Our customers always leave Vietnam happily with such sweet memories in their mind, so you don't have to worry when using our services. Vietnam Travel Group will definitely satisfy you.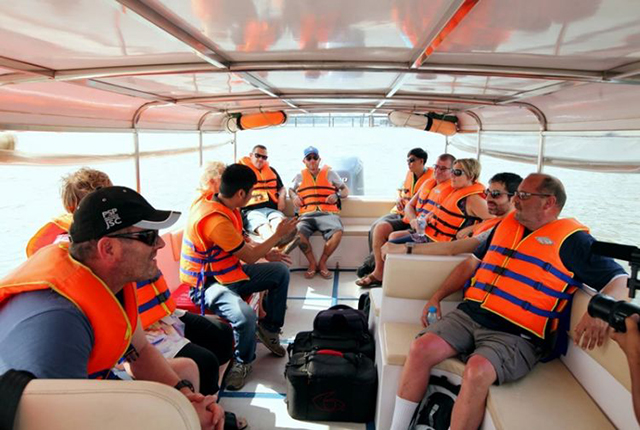 Most of the customers are happy with Vietnam Travel Group's tour
Vietnam Travel Group is ready to take you to Cu Chi tunnel – one of the most famous historical destination in this beautiful, magnificent and friendly S-shaped country! Are you ready to get on the speedboat with us?
We wish you the most wonderful vacation ever!
Vietnamtravelgroup.com