25 May, 2019 VNTG
Instead of luxury vacations between the walls of the hotel room and artificial pool, why don't you join Vietnam Travel Group for a unique holiday with the peaceful nature of Mekong Delta, Vietnam? The most simple yet attracting characteristics of Mekong Delta will definitely surprise you.
What is Mekong Delta, Vietnam?
Mekong Delta is located in Southern Vietnam, the place has been famous for its valuable tourism industry. This is also the immense maze of rivers, islands, ancient Khmer pagodas, floating markets and small villages with giant astonishing rice fields.
Besides its important role in culture, population and economy, the Mekong Delta of Vietnam are also known as the Southwest region, was formed from alluvial sediments and accreted through the sea level changes; through each stage leads to the formation of sand dunes along the coast. The place particularly impresses travelers from all over the world.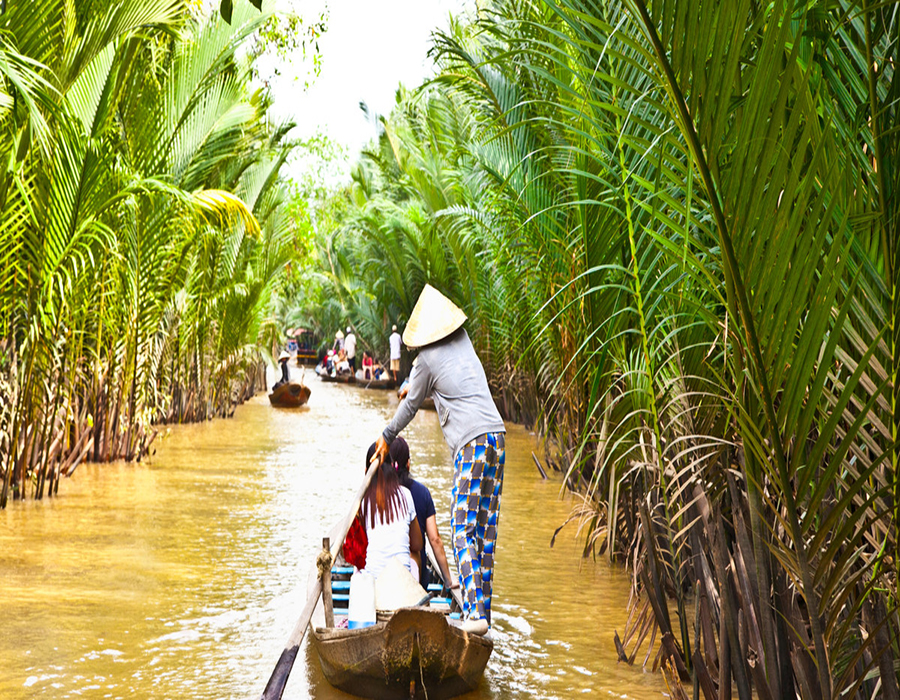 The peaceful view of Mekong Delta, Vietnam
Due to its peaceful sceneries, this place is one of the most magnificent and spectacular areas of Vietnamese tourism. It has been attracting millions of tourists from both domestic and from all over the world. Coming to the destination, you will have the chance to discover numerous interesting facts about the natural sceneries as well as weather, the condition and the various species of plants and animals here.
Not only that, but you will also witness the peaceful daily life of local people in Vietnam. It will be such a great experience to learn more about their culture, cuisine as well as ways of making money. Learning a new culture or religion always bring you more knowledge and help you extend your mind more than ever.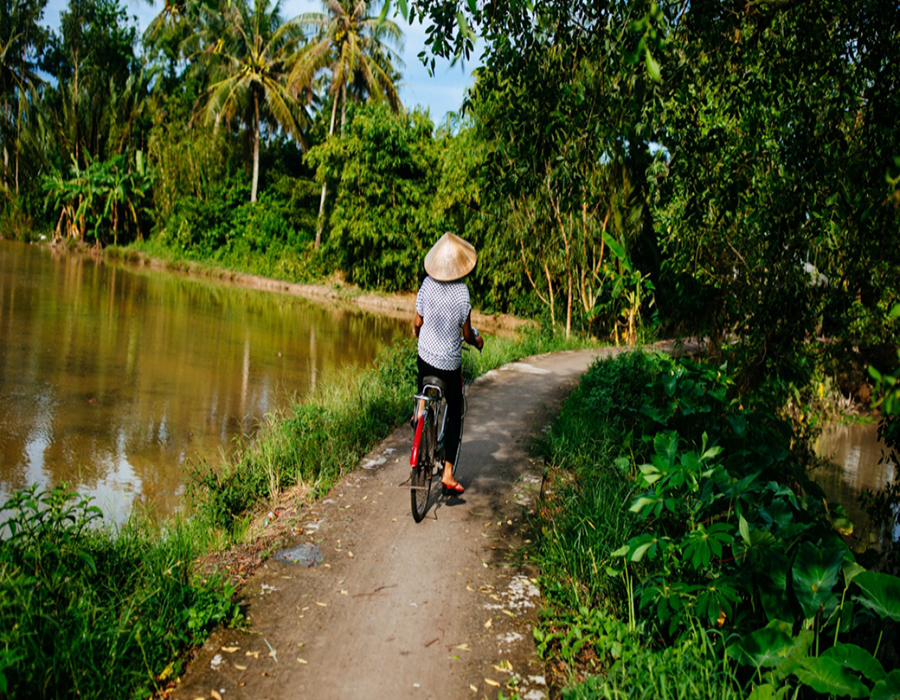 You will have the chance to discover the simple life of Vietnamese people
Cai Be floating market – the lively place of Vietnam
Cai Be floating market is a popular tourist destination of South Vietnam. It has a special point: meeting and trading all day and night, as a fruit and produce transfer station for all regions. Goods here are surprisingly cheap, so you can buy many amazing products to give your loved ones at home.
The goods here are diverse and plentiful, especially fruits, because Cai Be floating market is home to the most fruit in Tien Giang province, and the gardens near Tan Phong is brought here to trade. There are many people come on boats from Ho Chi Minh City, Ca Mau, Vinh Long, An Giang and Can Tho come here to buy goods.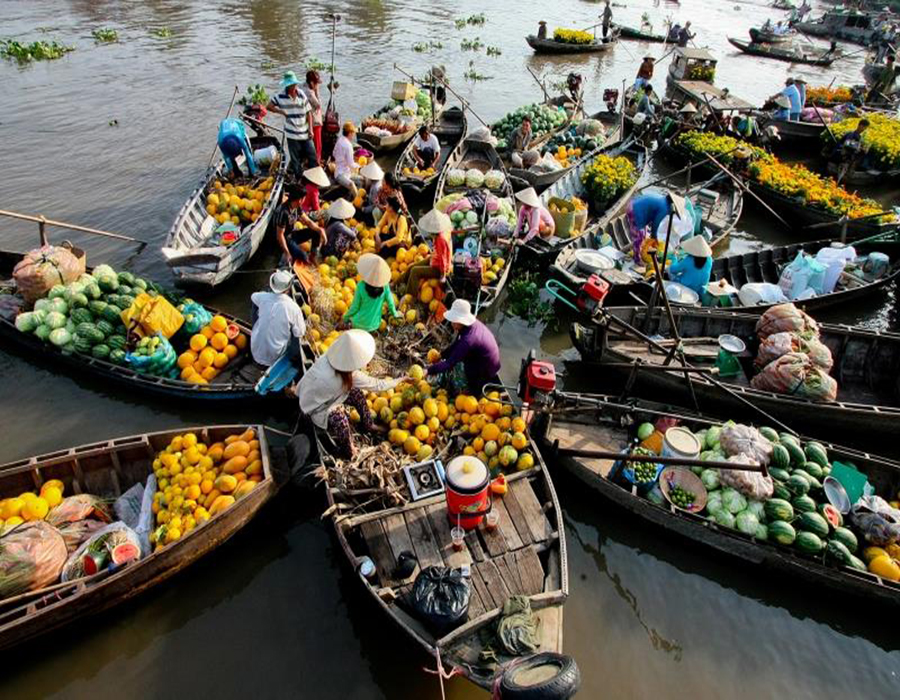 The bustling view of Cai Be floating market
Dawn and sunset are considered the two most crowded and beautiful sessions in floating markets. If you are a person who likes crowded activities, bustling boats and watching the forms of water trading, you should go from early in the morning, when the sun just rose. Morning is the most bustling time, the most traded and concentrated variety of agricultural products. The market usually less crowded at 8 AM.
People who like quiet and peaceful places should visit the Cai Be floating market in the afternoon, review the activities of flooded people on boats, one of the characteristics of the Southwest. In the afternoon, you should go around from 4 PM, when it is less sunny. You will have moments of watching the sunset on the river. Sunset is also when the "floating town" lights up, bring a little poetic and sad feelings. This is considered the most beautiful and sparkling time of this floating market.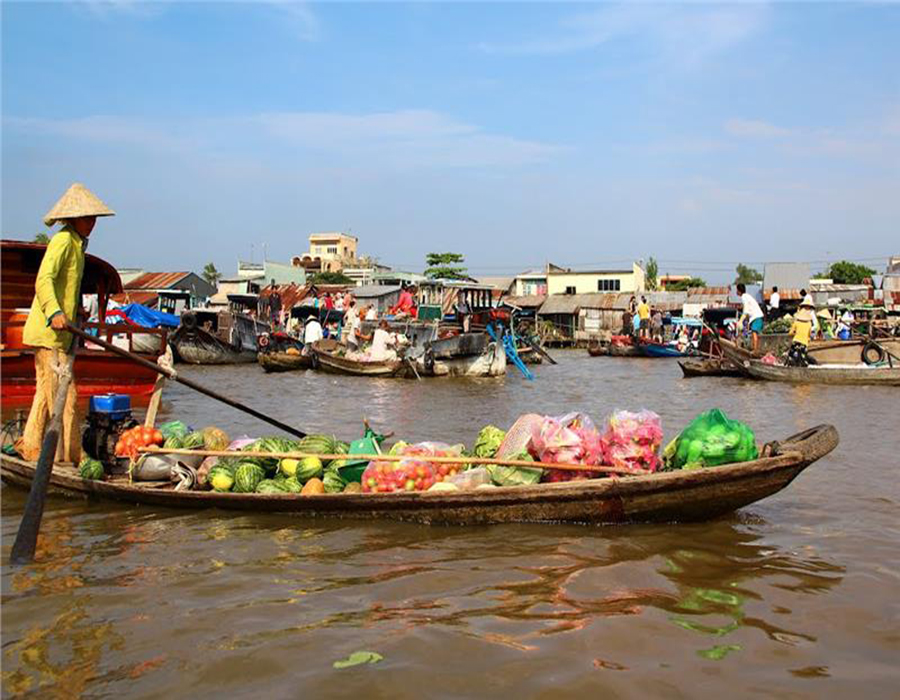 Cai Be floating market under the sunset light
...
Your detailed schedule in Mekong Delta and Cai Be floating market
With Vietland Journey's Mekong Delta and Cai Be floating market tour, you will weave through scores of boats loaded with bright piles of freshly picked produce and neatly folded stacks of new clothes and barter with vendors for unique souvenirs and watch the interactions between locals at this fascinating floating market. With a local to lead you, you can explore the village of Cai Be floating market fully.
You will join your guide from Vietnam Travel Group outside your hotel and take the quick ride to Cai Be for a zigzagging boat trip around the village's floating market. Look for energetic vendors selling fresh fish, see families picking up their daily groceries, and do some shopping of your own at boats filled to the brim with quality handicrafts.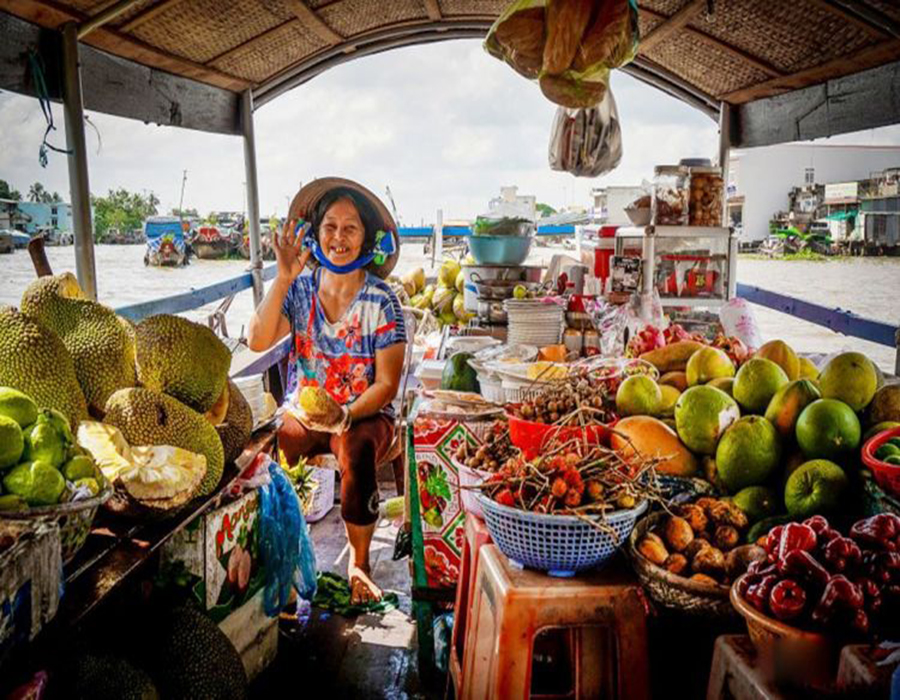 Cai Be floating market is the place where you can buy much Vietnamese food and products
Then you can take a detour to locally owned workshops where you can get up-close looks at the processes behind making sticky rice paste, sweet coconut candies, and savory fish sauce. Continue your foodie exploration with a tasty lunch, served up in a serene orchard setting on An Binh Island, and then investigate smaller waterways with a leisurely rowboat ride.
At last, you shall catch glimpses of a rural fisherman casting their nets, pop into a garden full of fruit trees to sample some of the day's harvest, and chat with locals while sipping strong cups of rice wine before you jump back in your ride and head back to your Ho Chi Minh City hotel.
Are you ready for an amazing day in Mekong Delta and Cai Be floating market, Vietnam? Don't be hesitate to visit vietnamtravelgroup.com or contact Vietnam Travel Group for more advisories and to easily book the tour.
Vietnam Travel Group is thrilled to be able to serve you in Mekong Delta and Cai Be floating market. We wish you a good day and a wonderful vacation in our S-shaped country.
vietnamtravelgroup.com