22 April, 2019 VNTG
Have you ever come to Mui Ne – an outstanding beach area of the Vietnamese tourism industry? If haven't, then you really should pay our Mui Ne a visit. Join Vietnam Travel Group's beach luxury group tour and you won't regret discovering such magnificent and charming place.
What is like in Mui Ne Beach?
Mui Ne is the name of a sea cape, also known as a famous tourist center in Phan Thiet, which is included in the list of Vietnam national tourist resorts. Currently, Mui Ne is a ward of Phan Thiet city with a total area of 35.41 kilometers square, with a population in 1999 was 24275 people, a population density of 686 people per kilometers square.
Visitors can come to Mui Ne at any time of the year, each season the "paradise of the sea" brings a different beauty. From April to August is the most beautiful time in Mui Ne, at this time the sea is clear and cool. From August to December will be suitable for surfing enthusiasts and adventurous sports.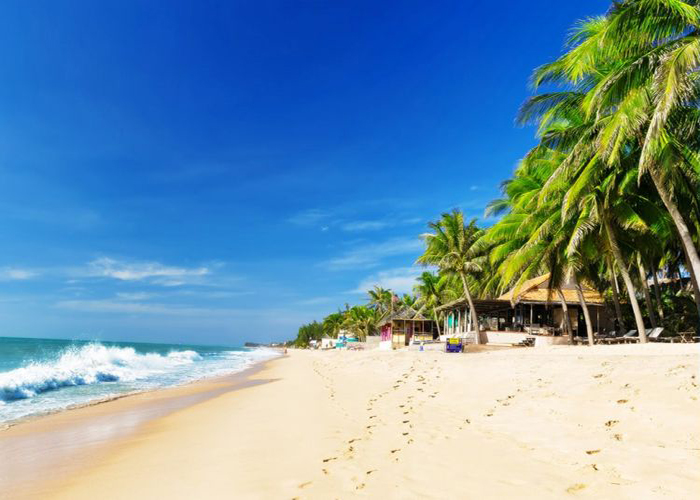 The poetic beauty of Mui Ne beach
The sceneries in Mui Ne are absolutely breathtaking. The white and wide sandy hills stretching in Mui Ne is a famous scenic spot that has become a symbol and a beautiful image of Binh Thuan land. The golden sunlight and cool breeze carrying the salty taste of the sea, the white and golden sand hills that are continuously bobbing, rippling and changing the shape every hour will enhance the wild beauty, pristine and charming for Mui Ne.
Not only famous for its white sand dunes, but Mui Ne also impresses tourists by the lush coconut groves stretching along the coast into an arc. You can sit under the green coconut trees to enjoy the pleasure of the blowing sea breeze.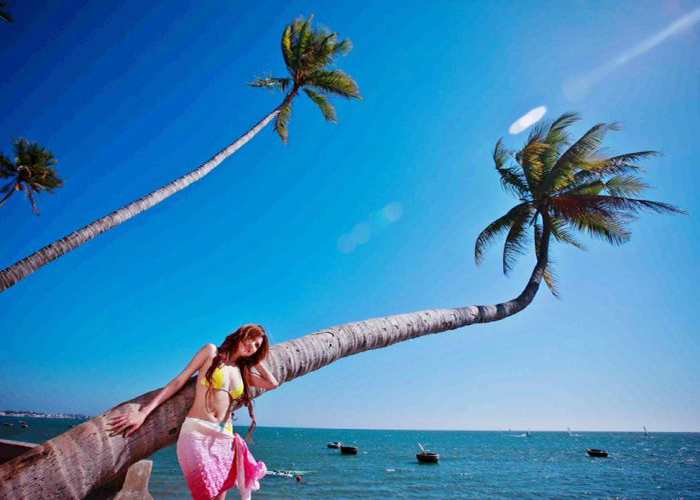 Tourist enjoying the refreshing blue sky in Mui Ne beach
Mui Ne is not only a "paradise of entertainment" with a beautiful coastline, but it is also famous for its many historical and Cham monuments. It's no wonder that recently, Mui Ne is becoming more and more famous in the eyes of international tourists. If you want to explore the place yourself, don't be hesitate to contact Vietnam Travel Group for an amazing Mui Ne beach tour.
Day 1: From Ho Chi Minh City to Mui Ne
In the first day of this Mui Ne travel tour, you will begin your journey by starting to move from Ho Chi Minh City. Mui Ne is about 200 kilometers away from Ho Chi Minh City by car, and of course, you will travel in one from Vietnam Travel Group. Our friendly English-speaking tour guide shall give you a brief description of the tour, as well as the basic knowledge and everything you need to know about Mui Ne. Their thoughtful services and hospitable attitude will give you a memorable time.
On your way to Mui Ne beach, you will experience the magnificent view changing from the bustling city to the peaceful and refreshing countryside. On the way to go, you can get a wonderful overview of the local people daily activities in different places in Vietnam, from growing crops, feeding animals to selling and exchanging self-made products and goods. Thanks to that, you will have the opportunity to feel an outstanding change between the big city and the countryside and take a nice view as well about the farms.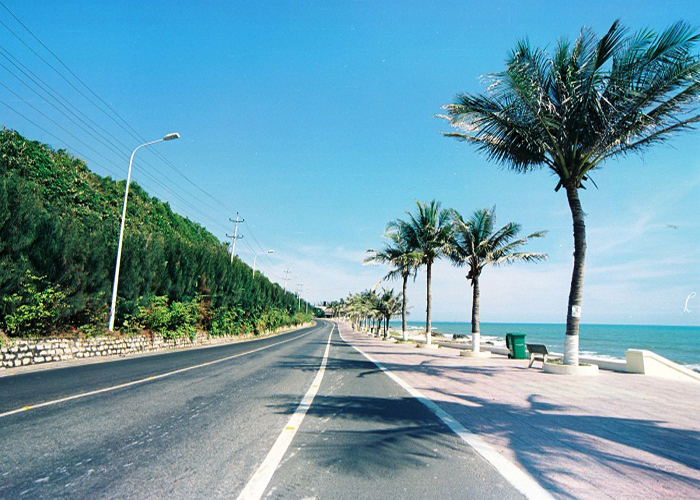 The shining road from Ho Chi Minh City to Mui Ne beach will make you awed
At the end of the long road, you will reach Mui Ne. When arriving, you will be checked in the hotel and spend the night in this beautiful place. Feel free to enjoy the refreshing air as well as the lovely sceneries, and get ready for your exploration the following day.
Day 2: Exploring Mui Ne, Vietnam
In order to fully explore the splendid beach of Mui Ne, from 4:30 AM, our excellent English-speaking tour guide will pick you up from the hotel and bring you to visit Mui Ne beach – one of the outstanding tourism wonders in this breathtaking area. To describe Mui Ne beach, this is a perfect destination for a memorable summer vacation in Mui Ne. You won't regret paying this place a visit.
Coming to Mui Ne beach, the first thing you see is the white and yellow sand waves that were created by the wind on the vast sand dunes. The outstanding and mesmerizing ocean shall give you a sense of peace that helps you reduce the stress from daily life. It's also a great chance to immerse yourself with nature and enjoy the wonderful creations that nature gives us.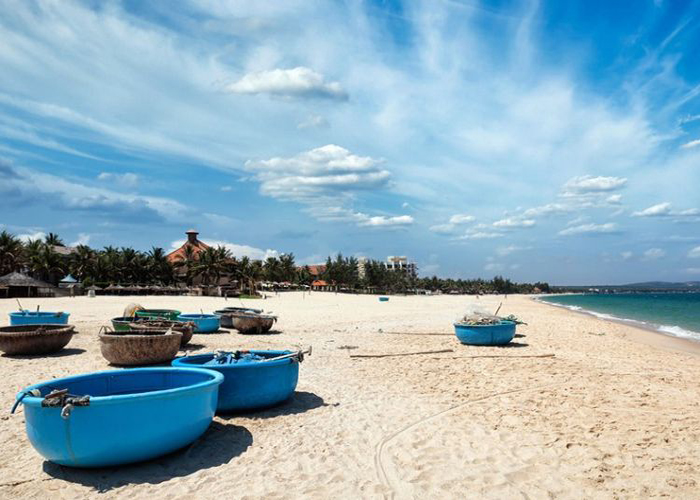 Spend a morning in this magnificent and peaceful beach
In the middle of the white sand dune, there is Lotus Lake. Besides visiting white sand dune, you will have a chance to visit yellow sand dune. From the top of the yellow sand dune, you can see the scenery of Mui Ne and have a nice chance to discover the daily activities of the fishing farm.
In the fishing farm, you will have the chance to study the daily life of local people as well as their normal work of feeding and catching fishes, to sell and earn money from them. Next, to that, we will stop at the Fairy Stream, where you cannot miss in Mui Ne because of its beauty.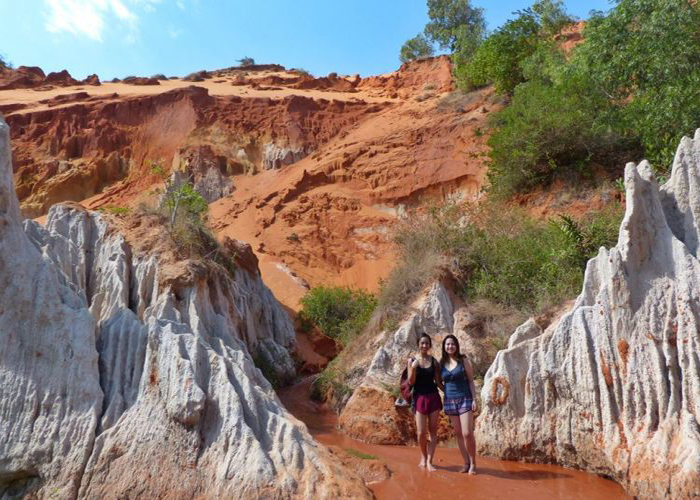 The famous Fairy Stream in Mui Ne
Your journey in Mui Ne beach ends there. After 2 days, you will feel content, happy and only leave with sweet memories. Vietnam Travel Group has years of experience in traveling and tourism, and we guarantee you the best quality vacation in Vietnam. Don't be hesitate to choose us for an exciting trip to the beautiful S-shaped country.
Are you ready for an amazing journey in Mui Ne beach, Vietnam? Don't be hesitate to book a tour with us right now. If you are looking for more detailed information, please visit vietnamtravelgroup.com or contact Vietnam Travel Group for more advisories.
Vietnam Travel Group is thrilled to be able to serve you in Mui Ne beach, Vietnam. We wish you a good day and a wonderful vacation in our S-shaped country.
vietnamtravelgroup.com