03 July, 2019 VNTG
Cu Chi tunnels is a famous historical relic of Vietnam, recently becoming more and more popular due to its tourism value. Traveling to Cu Chi tunnels by boat and bus will be a new experience provided to you by Vietnam Travel Group that you shouldn't miss.
What is Cu Chi Tunnels, Vietnam?
Located about 70 kilometers from the center of Ho Chi Minh City in the Northwest direction, Cu Chi Tunnels is a place to shrink the map of Cu Chi troops and people in a long and fierce resistance during the 30 years of fighting against invading enemies, gaining independence and freedom for the Vietnamese country.
With its stature of victory, Cu Chi tunnels have entered the history of heroic struggles of the Vietnamese people as a legend of the 20th century and become a famous place in the world. This is a unique battlefield with about 250 kilometers of broad tunnels like spider webs under the ground, with works associated with the tunnels such as trenches, mounds, battlefields, eating tunnels, sleeping, meeting, living, military, food storage, water wells, Hoang Cam kitchen...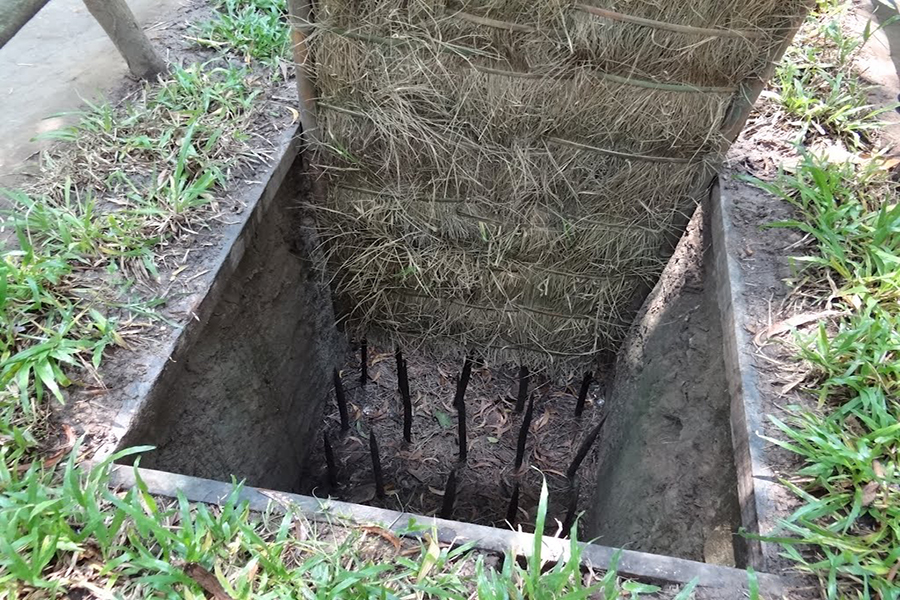 The entrance into Cu Chi Tunnels
True facts from the tunnels are beyond the imagination of human beings. Just go down a tunnel, you will understand why the small country like Vietnam could win the enemy which were the biggest and richest country in the world. Why Cu Chi, a poor piece of land, had fought for 21 years with a large army, equipped with modern and advanced weapons and vehicles. In this duel, the army and people of Cu Chi were victorious.
With the value and stature of the victory, which was summarized by the blood and effort of tens of thousands of soldiers, the Cu Chi Tunnels has been recognized by the Ministry of Culture as a National Cultural History Site.
Cu Chi Tunnels have quickly attracted people's attention. Since the war ended, there have been tens of thousands of tourists with millions of people of all colors and ethnicities in the world come to visit Cu Chi Tunnels. A politician in the Federal Republic of Germany said: "For many years I have doubts about the struggle of the Vietnamese people. How can a small and poor country beat a big and wealthy country like the United States? But when I came here, crawling through the 70 meters tunnel, I answered that question myself."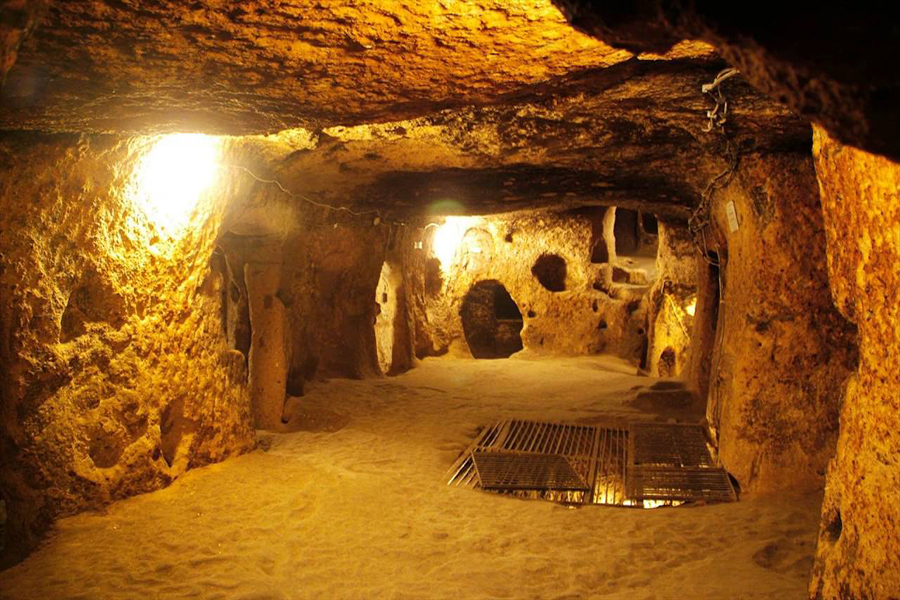 A corner inside the Cu Chi Tunnels
So, why don't you join Vietnam Travel Group's discovering tour right this summer vacation? Cu Chi Tunnels is a perfect destination for you to understand the history of Vietnam, as well as having the most unique experience in your life. Join us and you won't regret it.
Half-day Cu Chi Tunnels tour – A wonderful Vietnam experience
To begin your journey, the tour guide from Vietnam Travel Group will pick you up at the hotel and transferred to Bach Dang Pier. From here, you get in a speedboat and start your trip to Cu Chi Tunnels.
There is much information about Cu Chi Tunnels, but you just have to remember that it is an impressive network of tunnels with a length of over 250 kilometers. This strategic place was used by 15000 Viet Cong fighters during the war. This main axis system has many branches connecting to underground hideouts, shelters, and entrances to other tunnels. The tunnels are between 0.5 to 1 meters wide, just enough space for a person to walk along by bending or dragging. However, parts of the tunnels have been modified to accommodate visitors. The upper soil layer is between 3 to 4 m thick and can support the weight of a 50-ton tank and the damage of light cannons and bombs. The underground network provided sleeping quarters, meeting rooms, hospitals, and other social rooms.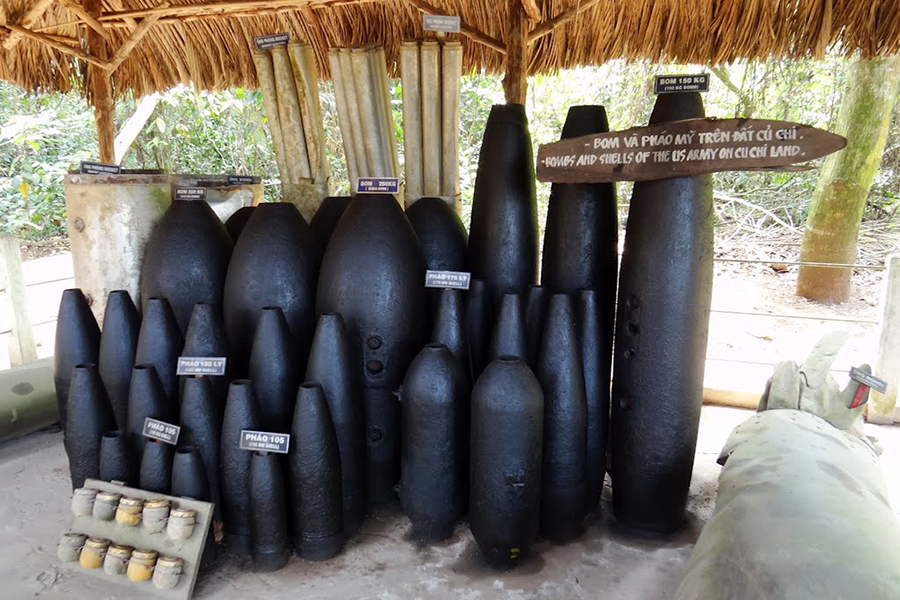 Some artifacts displayed in the Cu Chi Tunnels
On the way, enjoy the beauty of nature and the Vietnamese lifestyle along the river bank in your journey. Upon arrival in Cu Chi, visit the movie theatre room where you will have a chance to see the documentary of lives under tunnels, the secret Cellar-Door, the Museum of Self-made Weapons & Garment-factory Ammunition, the Shooting Range, and of course the tunnels where you will have the opportunity to experience real life underground.
You can also visit other places like the Hoang Cam Stove where lies the foods supply for the entire tunnel system, and the Souvenir Shops where you can buy lots of interesting gifts for your loved ones.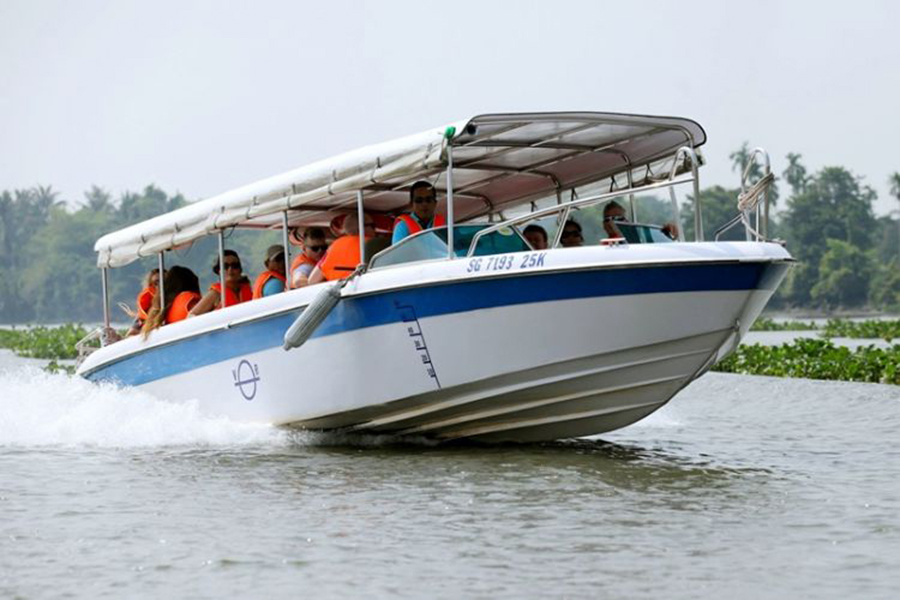 Tourists going to Cu Chi Tunnels by boat
After visiting the Cu Chi Tunnels, you can enjoy the meal with traditional Vietnamese Food. After the meal, we will return to Ho Chi Minh City and finish the journey. Your memorable trip ends.
Are you ready for a wonderful vacation in the mysterious tunnels of Cu Chi, Vietnam? Don't be hesitate to book a tour with us right now.
Vietnam Travel Group is thrilled to be able to serve you in Cu Chi Tunnels, Vietnam. We wish you a good day.
vietnamtravelgroup.com