30 June, 2019 VNTG
Nha Trang is not only famous for the beautiful city and the breathtaking beaches, but also for the peaceful countryside as well. Join Vietnam Travel Group in the amazing full day in Nha Trang countryside to have the best summer vacation ever!
What is attractive of Nha Trang, Vietnam?
Nha Trang is a coastal city and is the political, economic, cultural, scientific and technical center and tourism center of Khanh Hoa Province, Vietnam. Before becoming a part of Vietnam, Nha Trang belonged to Chiem Thanh. Nha Trang was recognized as a Class 1 city by the Prime Minister of Vietnam on April 22, 2009. This is one of the first-grade cities under the province of Vietnam. Nha Trang is known as the pearl of the East Sea, the Green Pearl for its natural, beauty and climate value.
Nha Trang has a tropical climate with savanna influenced by ocean climate. The climate of Nha Trang is relatively mild, the annual average temperature is 26.3 Celcius degree. There is less cold winter and a long rainy season. The rainy season deviates from winter starting from September and ending in December of the calendar year, rainfall accounts for nearly 80% of the annual rainfall. About 10 to 20% of the rainy season starts from July and August and ends early in November.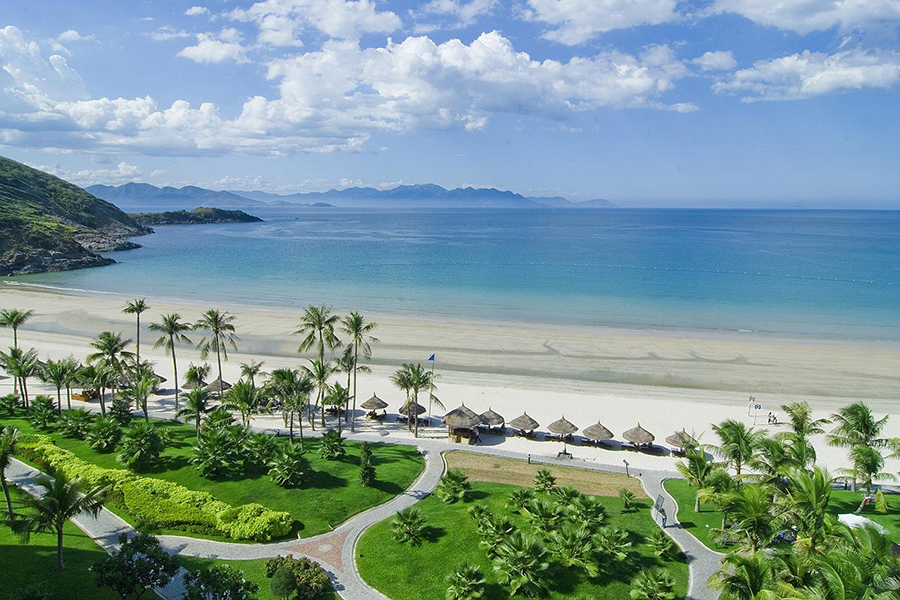 Nha Trang is famous for amazingly beautiful landscapes
Compared to the South Central Coast provinces, Nha Trang is a region with favorable weather conditions to declare. Tourism falls almost all year round. The main characteristics of Nha Trang climate are temperate temperatures all year round, the total temperate is large, the seasons are quite distinct (rainy and dry seasons) and less prone effects of storms.
The long beaches of this city have turned Nha Trang into a tourist city. It has also been chosen as a venue for major events such as the Sea Festival (Nha Trang), or major beauty contests such as Miss Vietnam, Miss Vietnam World 2007, Miss Universe 2008, Miss Universe 2017, etc.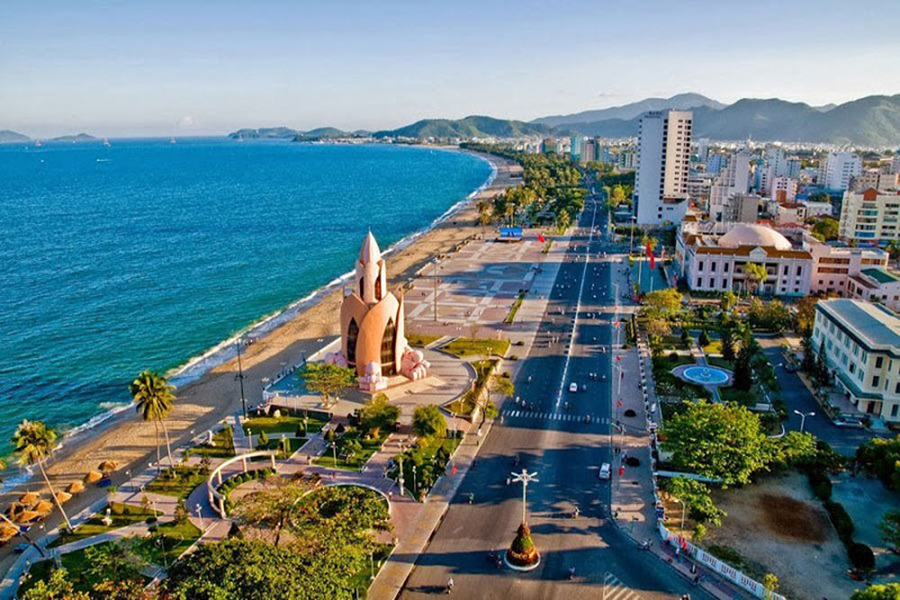 The beauty of Nha Trang shall leave you in awe
Focusing on exploring the tourism value in the countryside of Nha Trang, Vietnam, this private full day tour from Vietnam Travel Group shall give you what you can hardly find in other tours in the beautiful coastal city of ours. Firstly, you will enjoy the comfortable pick up at Cau Da Port, then have some time to participate in the scenic river tour.
Tourists are also taken to visit Cham Po Nagar Towers and enjoy the beautiful scenery that unfolds along the banks. Last, tourists can see the very old and ancient house with more than 200 years old.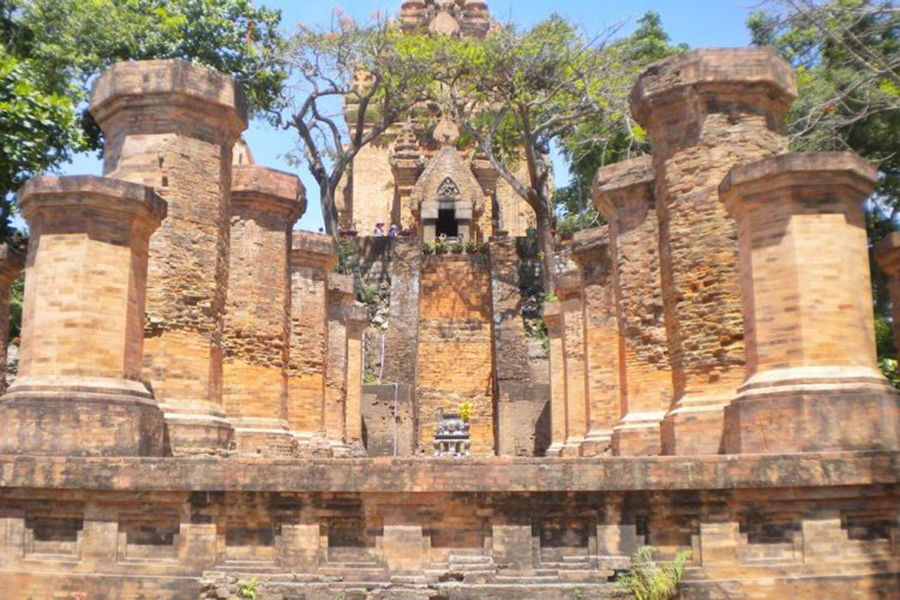 The Cham Po Nagar Towers, Nha Trang
Please note that special request (such as diet or vegetarian, etc) should be sent before your departure date. If you want an independent tour and private tour, please email us at sales@travelgroup.com.vn to get more information and assistance. At last, surcharge 30% will be applied for 30 April, 1 May, 24 Dec, 31 Dec, 01 Jan, and Tet Holiday.
How will your day go in the countryside of Nha Trang, Vietnam?
After your cruise ship docks at Cau Da Port, our local guide and driver from Vietnam Travel Group will meet and greet you. Then our friendly local guide will brief through what we will do for the day.
After the short brief finishes, head out of the port and start the countryside tour of Nha Trang. Apart from the beautiful beach and ocean, there is a River name "Cai" that is endowed to Nha Trang. Along the way to the small port where you will aboard the scenic river tour, you will visit Cham Po Nagar Towers which is one of the best architectures of Cham People.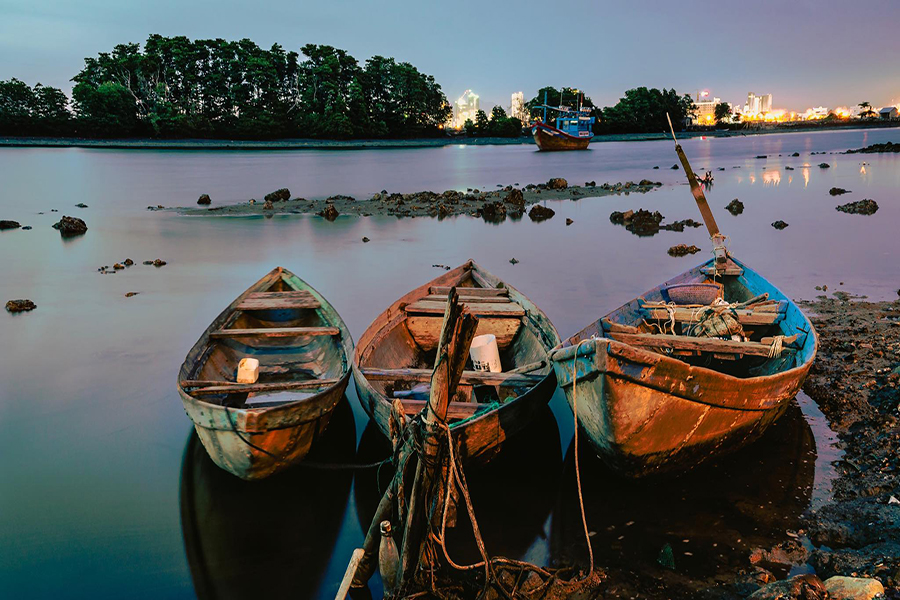 The peaceful Cai river in Nha Trang, Vietnam
After viewing the Cham Po Nagar Towers, start the boat trip up to the river. Here you can enjoy the beautiful scenery that unfolds along the banks, and see the very old and ancient house with more than 200 years old and try different fruits in seasons, the handicraft workshops, village markets, the Vietnamese people in their natural scenery and daily life.
Lunchtime and relaxing are at the Riverside Restaurant with Vietnamese or Asian dishes. After lunch, our guide and driver will drop you off by the ship at the Cau Da Port. Finish the unforgettable trip arranged by Vietnam Travel Group!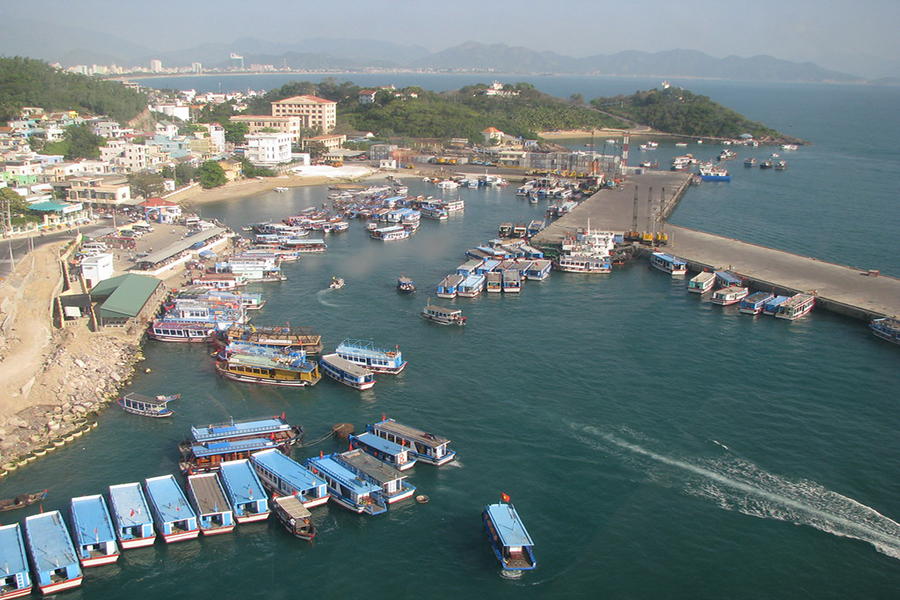 The Cau Da Port, Nha Trang from above
The breathtakingly beautiful countryside of Nha Trang, Vietnam is more than happy to serve you the best day of your summer vacation. Not many people realize the value of Nha Trang tourism, so why don't you become the first one? Vietnam Travel Group will definitely won't disappoint you with our services.
Don't be hesitate anymore, pack your bag, call your favorite partners and join Vietnam Travel Group in this Nha Trang countryside tour right away! Amazing summer vacation is waiting for you.
vietnamtravelgroup.com