09 March, 2019 LJ
There's a majority of people always spend their vacation on luxury restaurants and modern entertainment places such as amusement parks and shopping malls; or natural sceneries like the beaches, the mountains or the national parks. So why don't you choose a completely different and unique way to relax? This one day fishing trip in Ho Chi Minh City will definitely the best time of your life!
Why should you join a fishing day trip?
The daily work and modern life often stress you out with the heavy workload and other worries as well as concerns. That's why you should join a fishing trip because fishing is one of the best ways to help you relax and completely drown yourself in the beautiful nature, especially the beauty watery landscapes of Ho Chi Minh City, Vietnam.
Fishing requires not only skills but also patience and endure. You will have to sit on a chair, stay still and wait for the fish to eat your bait. It may sound boring and tired, but once you really put your mind on fishing, you will find it really relaxing. By focusing on the little buoy, you will forget everything else, from the tiring life to the stress you had to endure every day. You will find this experience peaceful and amazing.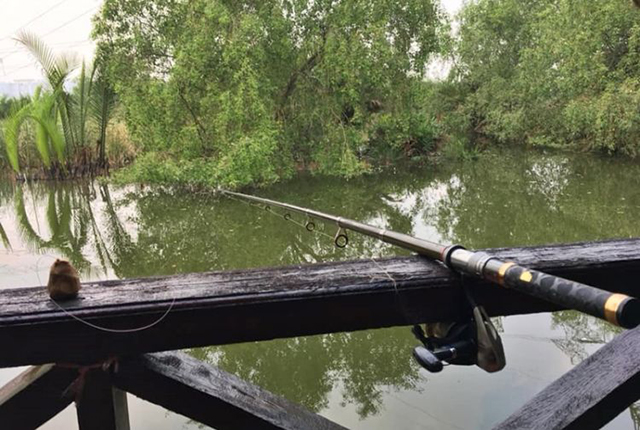 Fishing requires patience and likely to give you the relaxation you need
Fishing is also a great way to educate your children. Children tend to be naughty, active and hardly ever listen to you. Besides, modern life with technology devices and indoor entertainment nowadays are slowly attracting the attention of kids instead of healthy exercises and outdoor activities. By taking your kids to fish, even just for a day, you will teach them how to be patience and quiet. You will introduce them to the joy of catching a fish, of achieving something really meaningful.
Not only that, but fishing can also teach a child much interesting knowledge of nature. They will learn how fish can be caught, how to use the fishing rod and bait, how to choose the perfect water area to fish and how to wait for the fish to eat the bait. The kids can discover the beautiful nature such as the trees, the water, the animals,... something they can't learn through modern devices or normal games. This is will be an amazing, meaningful and useful experience for your children.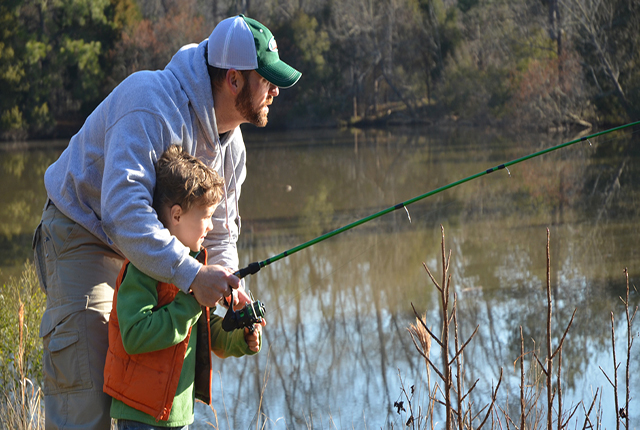 Teaching your kids to fish is a great way to educate them
Fishing can also become a great chance for bonding time. This activity is suitable for a family trip and a friend trip as well. By sitting under the sunray, trying to catch some fish and having fun together. Even when you just join the trip alone, this is also a wonderful way to relax and give yourself some quality time.
Not to mention, cooking and tasting the fishes you catch yourself is a wonderful experience too. There's nothing better and more exciting than making your own food and enjoy it. The children will absolutely love the idea. Enjoying the fishes they fishes themselves will be an everlasting memory for them. That's why, a fishing tour in Ho Chi Minh City will be the perfect choice for an interesting activity on your holiday.
Ultimate Odyssey's Ho Chi Minh fishing tour has everything you need
Ho Chi Minh City is one of the most popular tourist cities in Vietnam. Not only because of the beautiful landscapes, the magnificent natural and artificial destinations, the friendly and hospitable people and the delicious food, but also for the mystery and lovely rivers and lakes for visitors to stop by and try fishing. Coming to this beautiful city, you absolutely won't regret.
This fishing trip only lasts for a day, so you can easily book and join the tour when visiting the friendly city Ho Chi Minh. This will be a great experience between your exciting days in this magnificent city.
Joining Ho Chi Minh fishing tour, first, you will be picked up by the staff crew and arrive at the outskirt of the city. The outskirt consists of many beautiful rivers and lakes, all of them are perfect for a fishing day. Base on the weather condition and your preference, the staff will choose the best area for fishing activity. You don't have to worry about being bored, because we will make sure to choose the beautiful, peaceful and fresh environment for you to show your fishing skills.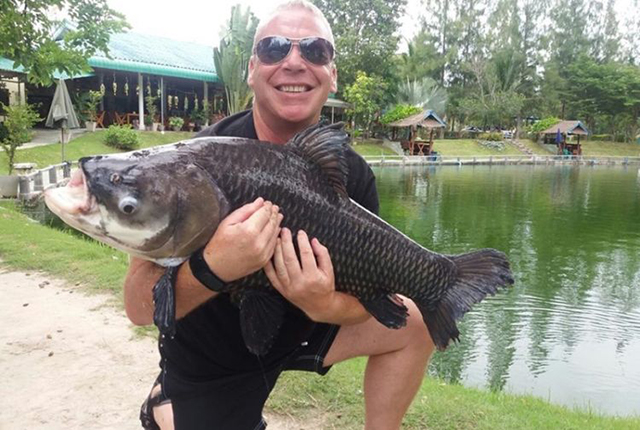 A customers showing off his impressive achievement during the tour
Besides that, the tour also provides you with every equipment you need. From the fishing rods, the baits to buoy and everything else. The staff will also teach you some basic skills and knowledge about fishing, so you don't have to worry if you have never tried fishing before. We will make sure that every customer on the boat know the technic to fish, so visitors can enjoy the tour the very best as they can. After the trip, you will go home with impressive fishes, enjoy a meal with the delicious fish dishes and feel wonderful and relaxed for a long time.
When joining our Ho Chi Minh City fishing tour, remember to bring necessary objects such as sunglasses, sun hat and sun-cream so you can sit all day long under the sun without feeling tired or sunburned. You don't have to worry about being thirsty or hungry, because the trip will provide you with water every time you need, and you can also taste delicious lunch on the boat with amazing traditional dishes of Vietnam.
Last but not least, please remember to bring your camera to capture the beautiful nature and your amazing fishes. The unique pictures will be such sweet a souvenir for this wonderful trip to Vietnam of yours.
Unique, interesting, convenient and joyful, why don't you join a fishing trip to make your vacation in Ho Chi Minh City become excited and mesmerizing right away? This will be a one-of-a-kind experience in your life and will become the most wonderful vacation ever. There's no better way to enjoy a magnificent trip with your loved ones.
If you want to read more detailed information about the fishing tour, you can check out the tour itinerary on Vietnam Travel Group. Be sure to read the policy, the inclusions as well as exclusions of the tour. If you're happy with the services we offer, just contact Vietnam Travel Group and our staff will be ready to help you with everything you need to book the tour as fast as possible.
Vietnam Travel Group fishing tour is ready to give you the best time of your life with the beautiful nature. Are you ready to catch some fish?
Vietnamtravelgroup.com