12 March, 2019 LJ
Between the borders of Vietnam and Cambodia lies a beautiful watery wonder of the Mekong Delta. In 3 days with Vietnam Travel Group's private tour, you will be awed with the exotic sceneries and the peaceful view of local people living their daily life. The private tour in Mekong Delta will absolutely bring you magnificent memories.
What is the Mekong Delta? Why should you join a travel tour to visit it?
The Mekong Delta, located in Southern Vietnam, is the immense maze of rivers, islands, ancient Khmer pagodas, floating markets and small villages with giant astonishing rice fields. The place consists of 1 central city and 12 provinces. The Mekong Delta also accounts for 13% of the country but more than 19% of the nation's population. It is also recognized as the largest rice exporter in the country.
The Mekong Delta of Vietnam is also known as the Southwest region, was formed from alluvial sediments and accreted through the sea level changes; through each stage leads to the formation of sand dunes along the coast. The place particularly impresses travelers from all over the world because of the vast water, tall coconut palms along the river bank, fields of storks flying straight, bumpy, monkey bridges...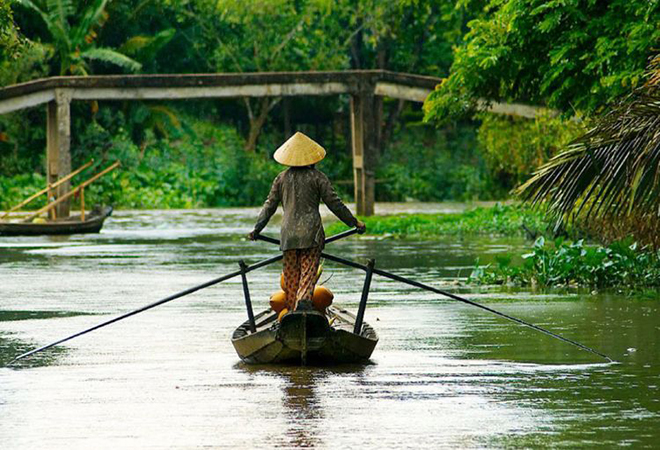 Mekong Delta has a peaceful and poetic beauty
So why should you join a travel tour to visit this beautiful Mekong Delta? First of all, this place is one of the most magnificent and spectacular areas of Vietnamese tourism. It has been attracting millions of tourists from both domestic and from all over the world. Coming to the destination, you will have the chance to discover numerous interesting facts about the natural sceneries as well as weather, the condition and the various species of plants and animals here. Sometimes outside with the natural environment will only do you well more than harm.
Not only that, but you will also witness the peaceful daily life of local people in Vietnam. It will be such a great experience to learn more about their culture, cuisine as well as ways of making money. If you're lucky, you can join cooking and tasting the delicious traditional dishes yourself. Learning a new culture or religion always bring you more knowledge and help you extend your mind more than ever.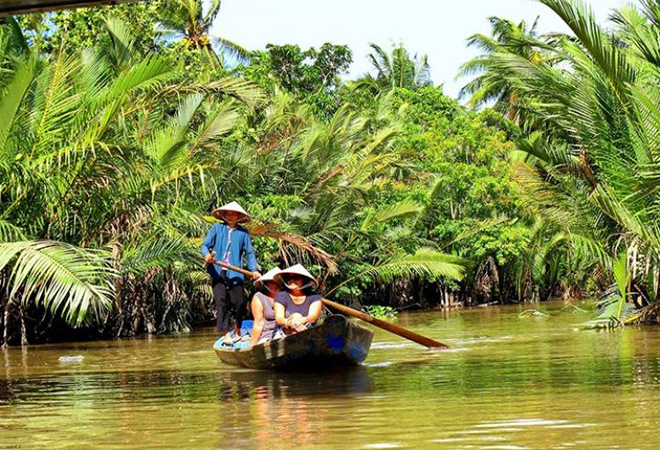 Numerous tourists from all over the world have been visiting Mekong Delta in recent years
Vietnam Travel Group's private tour through the beautiful Mekong Delta will definitely satisfy you. With our experiences in serving customers from every part of the world, you won't be disappointed with our services!
Where will Mekong Delta private tour take you to?
The Mekong Delta area consists of numerous magnificent and lovely wonders, but Vietnam Travel Group's tour will take you to the best ones. Visiting these amazing places, you won't be disappointed.
You will be taken to Vinh Trang Pagoda, one of the most beautiful pagodas in the Mekong Delta area. Vinh Trang Pagoda is also known as Vinh Truong Pagoda, which has a wonderful history of the building and it had experienced many changes and revisions. According to historical records, during King Minh Mang's reign, Vinh Trang Pagoda was just a small building, after that, it was reconstructed until became the astonishing wonder like nowadays. The place preserves many remarkable values of history, religion and culture of the ancestor of Vietnam.
Coming to the pagoda, you will be overwhelmed by its ancient environment and splendid structure. Coming to Vinh Trang Pagoda, visitors will have the opportunity to show respect to more than 60 unique Buddha statues made of wood, copper or earthenware... all of them are extremely majestic and magnificent.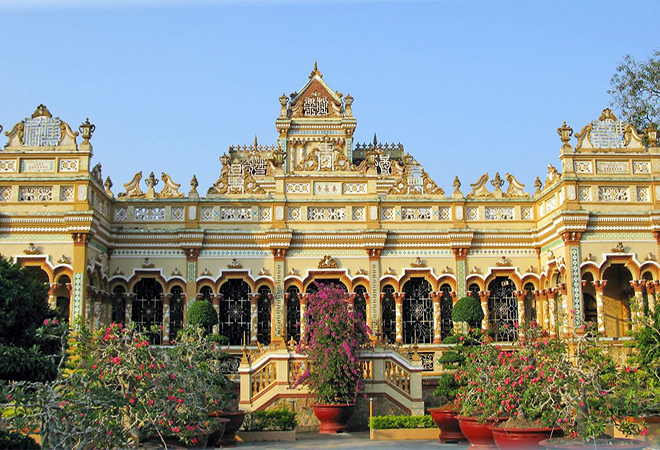 The magnificent beauty of Vinh Trang Pagoda
Besides the historical relic, Vietnam Travel Group's private tour also takes you to the villages where local people live and sell products to earn money. You can also buy some souvenirs such as traditional food, clothes and other items to save some wonderful memories about Vietnam. One of the most astonishing ones is Cai Rang floating market, which is a market where people completely do every activity on boats. If you visit Can Tho, you cannot ignore Cai Rang floating market - one of the three largest floating markets in this province. The main feature of this market is that it specializes in trading fruits and specialties of the Mekong Delta region.
Once you arrived at the floating market, the boat will take you around the place to buy seasonal produce at the garden and enjoy the rustic dishes here, besides you will be immersed in the bustling atmosphere and learn more interesting facts about the life of the people here.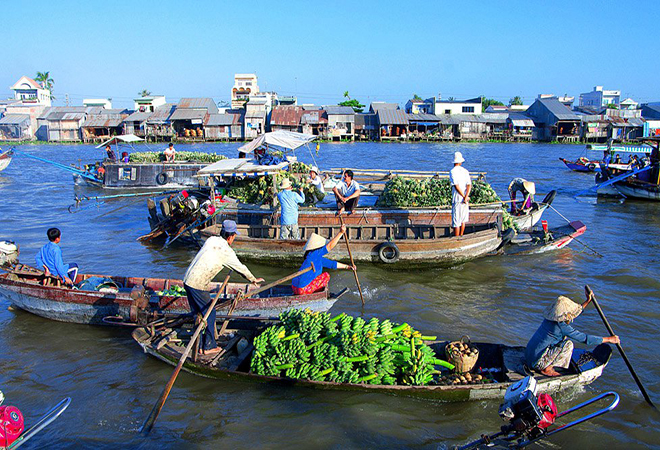 A bustling view at Cai Rang floating village
Near the Cambodia border, you will also visit Cham village, where you'll find descendants of the ancient Champa kingdom, which was once located in Central Vietnam. The people in Cham village now lives in nine hamlets with more than 2.000 families concentrated in hamlets or inter-hamlets, interspersed with Vietnamese people from the Cambodian border running along the Hau and Khanh Binh rivers, confluent in Tam Giang then poured down to Khanh Hoa commune, Chau Phu district.
The main occupation of the people here is small trade, fishing and traditional handicrafts. Cham people are less likely to trade through intermediaries. Mostly, they directly reach the market. Goods made by them directly brought to the market. This is the advantage to help Cham people have cultural exchanges with other ethnic groups. Coming to this place, you will also have the chance to purchase dedicated products made by local people and bring them home as souvenirs. You will also explore the daily life of the people as well as their culture and cuisine too.
Not only visiting those interesting places, but our Mekong Delta private tour will also take you to marvelous tropical fruit gardens where you can taste delicious and juicy fresh fruits from the garden. Your meals will be cooked and served by famous restaurants, most of them are the traditional dishes. The flavor of Vietnamese food will definitely please you. And you can learn about Vietnamese culture through the Southern Vietnamese folk music performance. This type of music had been a form of entertainment for the royal ancestors of Vietnam in the past, and had always been favored by every people of the spectacular S-shaped country.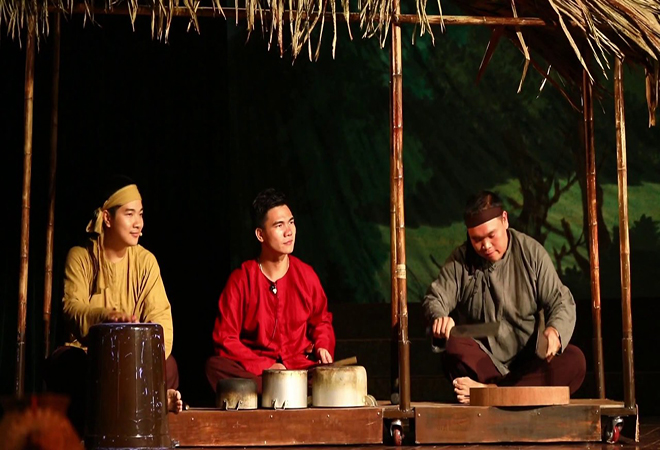 Folk music represents a huge value of Vietnamese culture
Joining Mekong Delta private tour, you will enjoy the beautiful wonders, both natural and artificial ones. The peaceful beauty of the religion will help you relax, refresh your mind and improve your physical as well as mental health greatly. It will also be a good opportunity for a happy bonding time for your family or friends too.
Besides such an interesting itinerary, the tour also provides you with high-quality transportations such as air-conditioned cars, boats and bicycles, in case you want to exercise a bit. If you're interested in joining yourself, you can always check for more detailed information about the tour on Vietnamtravelgroup.com.
The exotic Mekong Delta is ready to give you the best time of your life! Are you ready to explore this mystery, lovely and famous tourism area in the S-shaped country?
Vietnamtravelgroup.com