30 June, 2019 VNTG
Cai Be floating market is one of the outstanding tourism sites of Vietnam. Many tourists from all over the world have been fascinated by the crowded atmosphere here. Vietnam Travel Group has designed an amazing full day tour for you to discover this amazing place, why don't you give it a try?
About Cai Be floating market, Vietnam
Cai Be floating market – true to its name – is a market that placed on various boats floating on top of the river. The floating market is the contiguous place of three provinces namely Tien Giang, Ben Tre, Vinh Long, one of the three largest wholesale markets in the Southwest region, along with Cai Rang and Nga Bay floating markets. Cai Be floating market is always crowded with people buying seafood and household appliances, drinks, etc.
This floating market in Tien Giang province is a place to exchange goods. It still retains the cultural characteristics of the market in the Mekong Delta region. Highlights are fruit and produce transfer stations across all regions. Each boat hung their products up high so people can easily distinguish and buy what they need.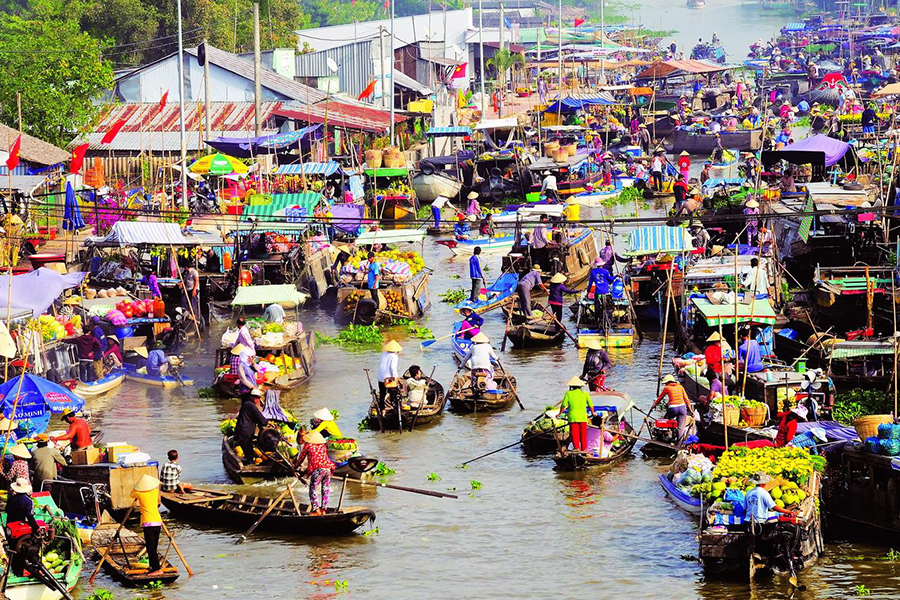 The bustling image of Cai Be floating market, Vietnam
Today, due to people's need, Cai Be floating market in Tien Giang not only trades fruits or agricultural products, but also delicious dishes. The small boats creep between fruit boats, mainly sell drinking water, breakfast for marketers and more. Travelers will have the opportunity to experience relaxing moments between the four rivers.
Cai Be floating market not only brings many cultural characteristics of the Cuu Long River but also an attractive tourist destination to help visitors admire the beauty of the local market and the culture and tradition of trade of the Western people.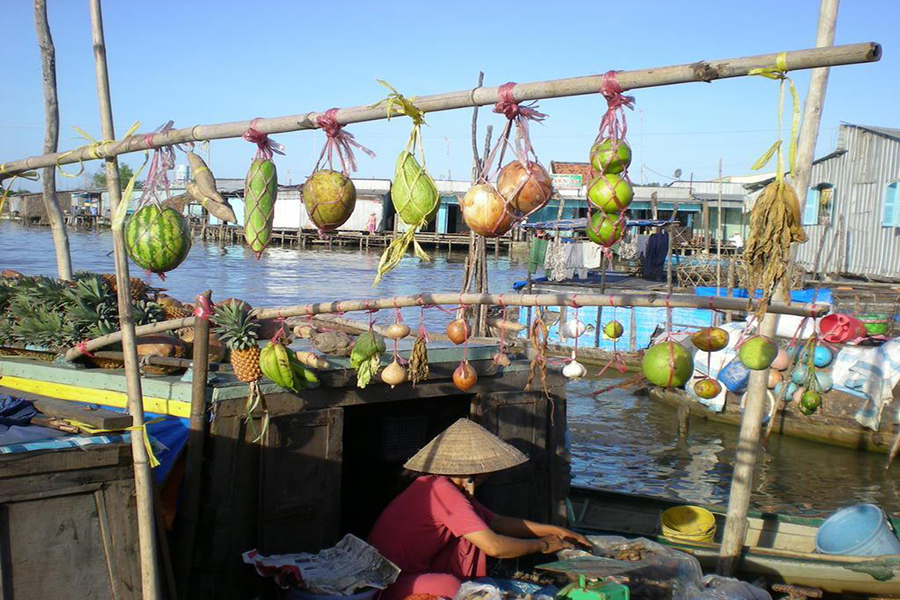 The products are hung up high for people to see
Here in Cai Be floating market, if you want to see the crowded activities, crowded boats and see the forms of water trading, you should go from early in the morning, when the sun just barely rise. Morning is when the market is most crowded and bustling, people come to trade and also when a variety of agricultural products are displayed. You should pay attention to the time when the market is dismissed at 8:00 to avoid late arrival.
For those who like quiet and peaceful places, should visit the floating market in the afternoon, watch the activities of people on boats, one of the characteristics of the Southwest. In the afternoon, you should go around from 4:00 PM, when it is less sunny. You will have moments of watching the sunset on the river. Sunset is also when the market area lights up, brings a little poetic and sadness. This is considered the most beautiful and sparkling time of this floating market.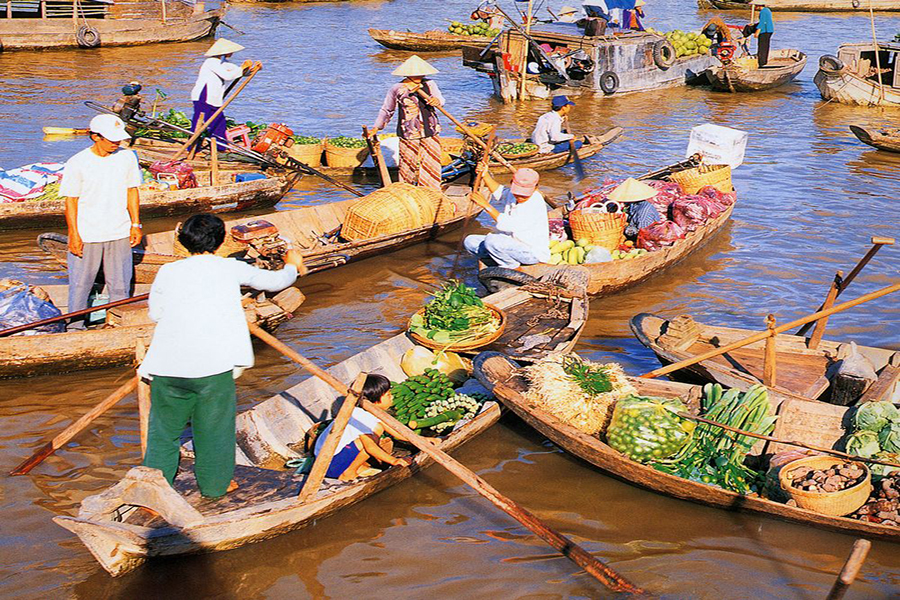 In the afternoon, the market is a little bit less crowded
With Vietnam Travel Group's full day tour, you will have the most wonderful opportunity to discover all of the special characteristics of the famous Cai Be floating market, Tien Giang, Vietnam. This tour guarantees to make your summer vacation more memorable and wonderful.
A day of yours in Cai Be Floating Market, Vietnam
Joining Vietnam Travel Group's tour on discovering Cai Be floating market, you will weave through scores of boats loaded with bright piles of freshly picked produce and neatly folded stacks of new clothes. You can also barter with vendors for unique souvenirs and watch the interactions between locals at this fascinating floating market.
You begin with joining your guide outside your hotel from 7:30 AM – 8:00 AM and take the quick ride to Cai Be for a zigzagging boat trip around the village's floating market. Here you can look for energetic vendors selling fresh fish, see families picking up their daily groceries, and do some shopping of your own at boats filled to the brim with quality handicrafts.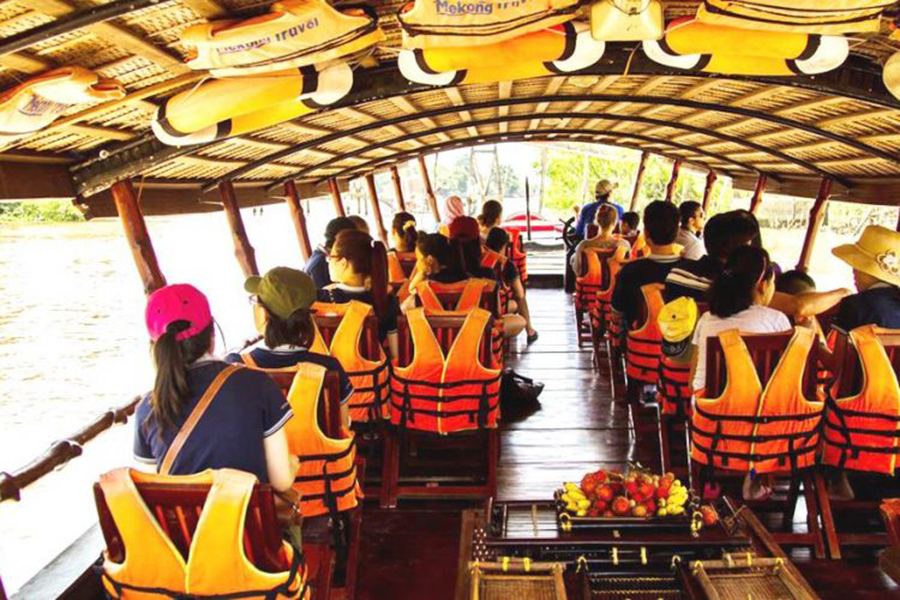 Customers ready to explore Cai Be floating market
You then take a detour to locally owned workshops where you can get up-close looks at the processes behind making sticky rice paste, sweet coconut candies, and savory fish sauce. Then with the crew, continue your foodie exploration with a tasty lunch, served up in a serene orchard setting on An Binh Island, and then investigate smaller waterways with a leisurely rowboat ride.
At the end, you will catch glimpses of rural fisherman casting their nets, pop into a garden full of fruit trees to sample some of the day's harvest, and chat with locals while sipping strong cups of rice wine before you jump back in your ride and head back to your Ho Chi Minh City hotel at 5:30 PM.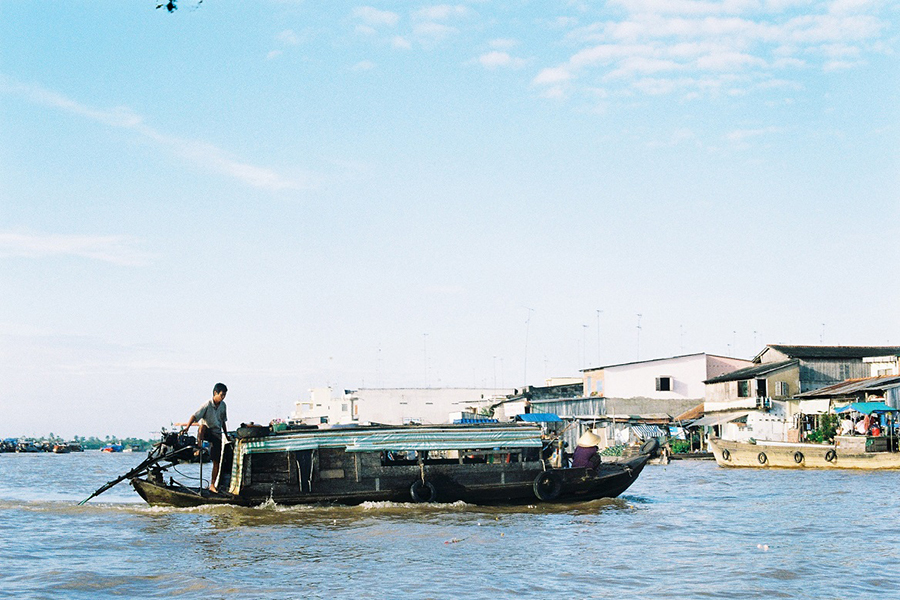 You can catch a glimpse of local fishermen doing their job
Discovering the Cai Be floating market, Tien Giang, Vietnam will become an unforgettable experience for you in our S-shaped country. Cai Be floating market represents a part of the Vietnamese culture, mostly trading and cuisine culture, but still, it can be guaranteed that you will have the most amazing day ever. The simple yet warm beauty of the market will surely touch your heart.
Vietnam Travel Group is ready to serve you in Cai Be floating market, Vietnam. Are you ready to explore with us?
vietnamtravelgroup.com