15 January, 2019 Vietnam Travel Group
In Vietnam, motorbikes are everywhere! According to the Ministry of Transport figures from 2013, of the 90+ million population, 37 million were registered with a motorbike and only 2 million with a car.
Motorcycles outnumber cars by 10 to 1 in Vietnam, among the highest ratios in the world. Mark Magnier wrote in the Los Angeles Times, "With so many motorcycles on the road, more than half of Vietnam's 13,000 annual traffic fatalities are from head injuries — twice as many as in the United States. Fortunately, the figures are edging down with the new helmet law. Just about anything is carried on Vietnamese motorcycles, and it's not unusual to see four people spanning three generations, women riding sidesaddle, on one underpowered two-wheeler. Although all passengers are required to wear helmets, only those older than 6 face fines, so protective headgear on children is rare.
Reading through magazine about how fun, how dangerous and how heart-breaking facts about driving with motorbike in Vietnam but did you know what exactly will it be like with the local using motorbike as their main and only mean of transportation for their daily life? Well, Vietnam Travel Group is happy to show you our collection of real life photos token as normal daily life. From those photos we would like to show you what amazing skill that they have and how hard they life are as they are willing to ignore safety rules: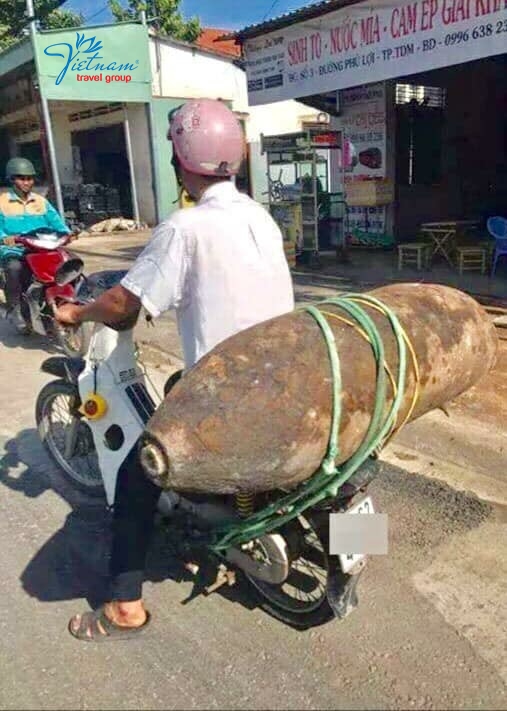 Man carried bomb with his motorbike - Do you have enough gut doing that? - Vietnam Travel Group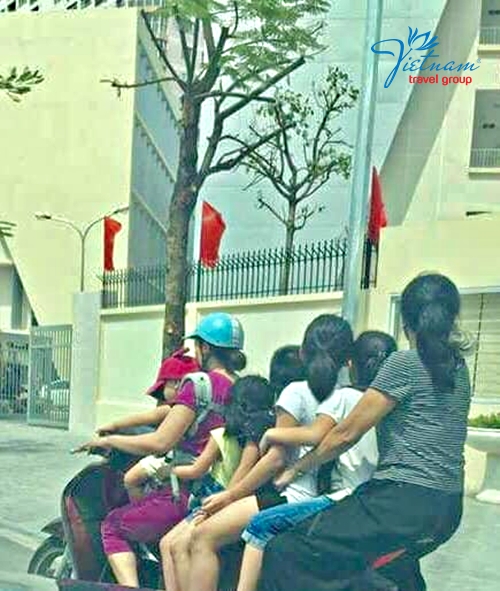 Big family in small motorbike - Vietnam Travel Group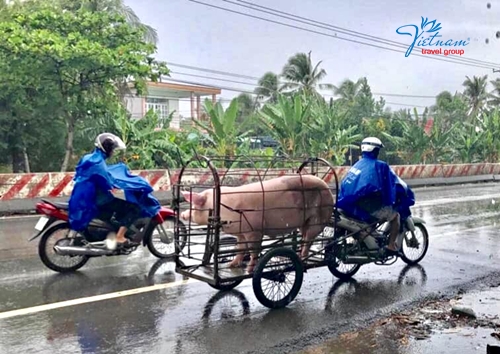 Small scooter with big pig in cage - Vietnam Travel Group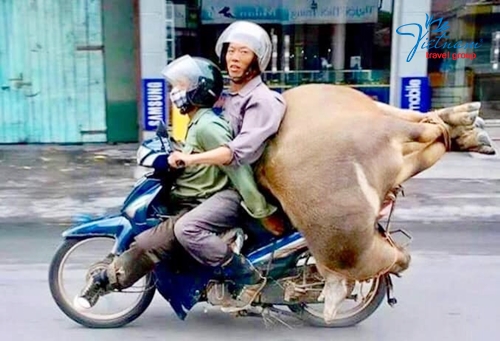 Big pig on the back of a small scooter as 3rd passengers - Vietnam Travel Group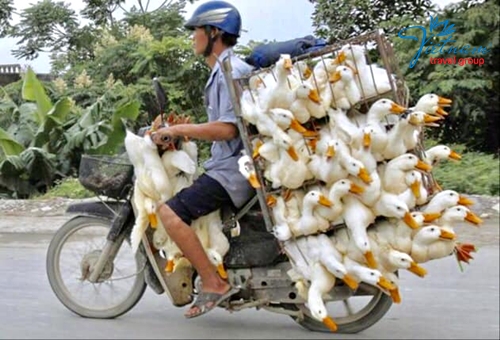 Can you count how many ducks on this man scooter? - Vietnam Travel Group
We hope that you have great time after seeing those real life photos. By coming to Vietnam, you are not only support our tourism service but also contribute in the social welfare by using services provided by locals. So plans your holiday today to visit Mekong Delta, Ho Chi Minh City, Vung Tau, Da Lat, Phan Thiet, Danang City, Hue City, Hoi An Ancient Town, Ha Long Bay, and Sapa etc... Let's the team of Vietnam Travel Group assist you with all your travel needs. Contact us now!
Vietnam Travel Group's Team