06 April, 2019 VNTG
Ho Chi Minh City is one of the most beautiful places for tourism in Vietnam. Especially, the city wears its most mesmerizing outfit in the evening, when the sun has gone to sleep and the streets glow with lights. The city will be even more impressive if you sightsee in from a luxury cruise with a delicious dinner.
What's special about Ho Chi Minh City during the night?
Ho Chi Minh City is famous for its bustling lifestyle and hospitable attitude of the local people. The place also attracts thousands of tourists from both domestic and from all over the world thanks to its numerous natural wonders, such as the popular Mekong Delta. However, not many people are aware of the romantic, luxuriant and breathtaking side of Ho Chi Minh City that can only be seen during the night.
The night is also the time when Ho Chi Minh City put on a completely different appearance from the day. High-rise buildings, architectural works, roads suddenly become more prominent with vibrant and glittering lights. It is not suddenly that Ho Chi Minh City being named "The city never sleeps" of Vietnam.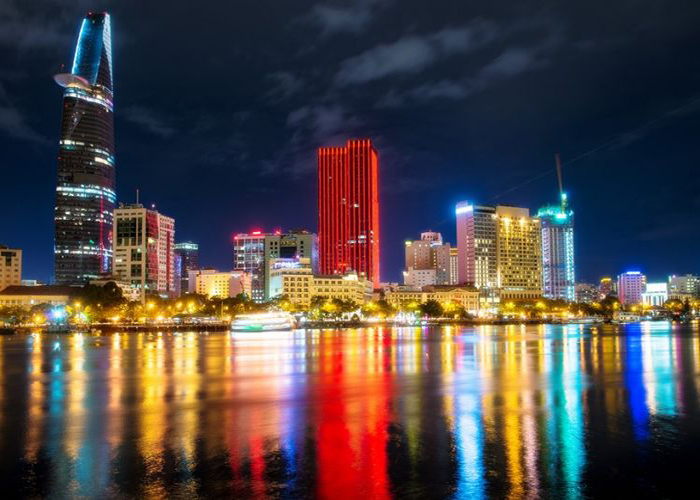 The glowing Ho Chi Minh City during the evening
The life of Ho Chi Minh City at night was completely different during the day, the more it gets late, the more places to play and eat are opened with an extremely bustling and vibrant vibe.
The sceneries of Bach Dang Port during the evening is absolutely gorgeous. Before getting on the cruise for the most memorable night, you will have some free time to wander around the port, taking magnificent pictures and drench yourself in the refreshing air of the evening. Make sure to wear your best outfit and bring your camera along, so you can save the sweetest memory about the lovely place.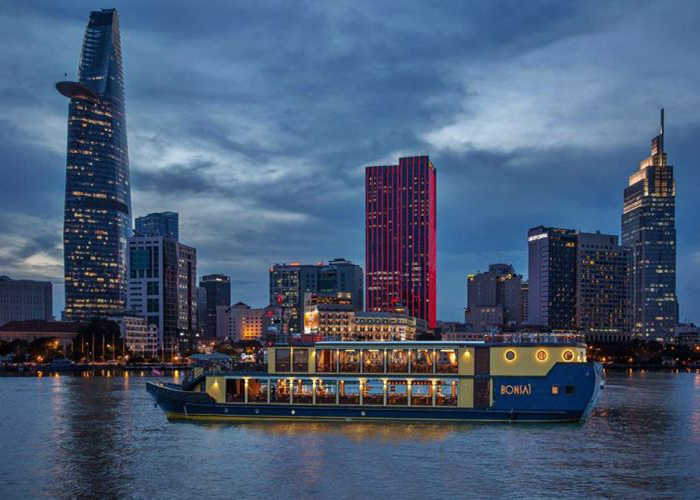 The luxury cruise where you will have your special dinner
Dinner at restaurants and eateries has become too normal and boring. So why not change the atmosphere by experiencing an exciting and interesting boat dinner? On the cruise, you will be able to witness the extremely wonderful beauty of Ho Chi Minh City with glowing and mesmerizing lights. If you just had a tiring day and wanting to forget all the tiredness from daily life, this dinner cruise will be the perfect choice for you. Don't miss the chance to enjoy the "city never sleeps" of Vietnam in the most romantic and special way.
What else is provided in this dinner cruise in Ho Chi Minh City?
To make sure that you have enough time to enjoy the fullest of the beauty in Ho Chi Minh City, from 17:30 PM, the friendly English-speaking tour guide from Vietnam Travel Group will be ready to pick you up at your hotel. Their hospitable attitude will surely give you wonderful moments.
The special thing about this is you will be traveling on a cyclo. Cyclo is a very familiar means of transportation for Ho Chi Minh City people in the 50s and 60s of the last century. At that time, people could easily catch a cyclo in all roads, the transportation carries all classes. Cyclo is a beautiful symbol of Ho Chi Minh City that has been marked deeply inside the heart of each Vietnamese people.
Sitting on a cyclo, visitors will be taken slowly through the streets of Ho Chi Minh City, which allows you to closely witness the daily life of the people here. Especially, cyclo is like a bicycle, which means people have to peddle them to move. The transportation is environment-friendly, simple yet interesting and unforgettable.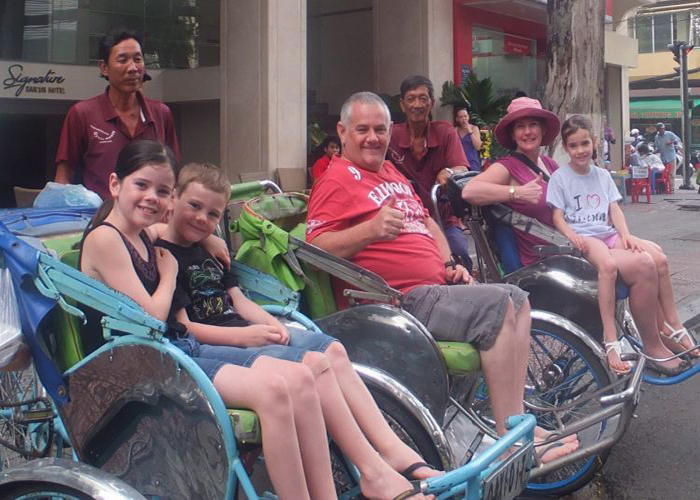 Our customers prepare to start the night on cyclos
You even have the opportunity to stop by Ben Thanh market - one of the oldest symbols of Ho Chi Minh City. As a matter of course, anyone who comes to the city named after Uncle Ho will stop by Ben Thanh Market to find his favorite items to make as gifts for relatives or to use himself. If you can't go to Ben Thanh Market during the day, don't worry because this place is also very bustling at night.
Customers who visit Ben Thanh night market are often interested in the unique culture of Ho Chi Minh City as well as buying souvenirs for themselves and their families. In addition, Ben Thanh night market also welcomed a large number of young people who came here after a day of studying and working tirelessly. Commodities here are very diverse, with all kinds of goods from exports, processed goods to high-end products. In this place, you can find lovely and unique gifts for your loved ones at home.
Then finally, you will be taken to Bach Dang port, where you can take numerous wonderful pictures to share with your friends. After that, it's time for your romantic, delicious and memorable dinner on the cruise under the evening sky of Ho Chi Minh City.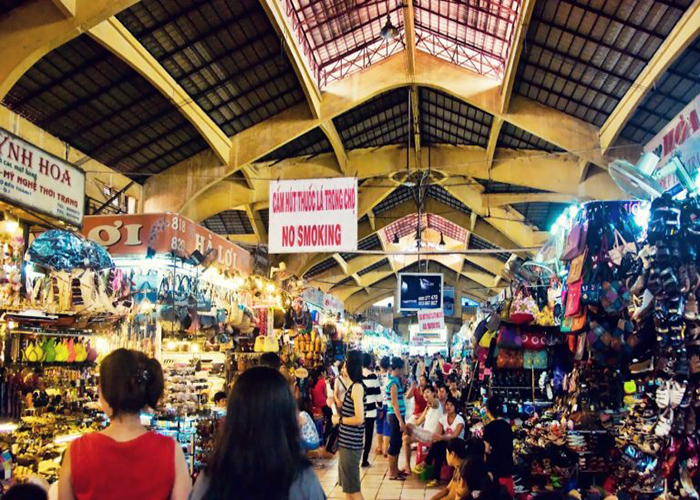 Ben Thanh market is crowded even when it's late
Travelers who come to enjoy the dinner on the cruise not only enjoy the delicious and attractive culinary flavors but it's also a place for you to relax and watch Ho Chi Minh City at night after a hard working day. Thanks to the charming river water space, with the appetizing dishes will bring you romantic, happy and meaningful moments. The cruise offers a variety of European and Asian dishes in an extremely rich and attractive menu. Especially, the dishes here are prepared by professional chefs and have many years of experience in famous restaurants in Ho Chi Minh City.
In addition to enjoying delicious food and the cool space of Saigon River, visitors also have the opportunity to drown themselves in the sweet melody of Southern folk music, which will be played at the background. This is a famous type of art and entertainment in the culture of Vietnam. The music will give you the most wonderful night, and leave you a happy smile on your face.
If you are not knowing what to do in a night in Ho Chi Minh City, why don't you join us right now! The short but amazing experience will absolutely not let you down. If you have any questions, don't be hesitate to contact us and all of your problem will be solved greatly!
Vietnam Travel Group is thrilled to have you in Ho Chi Minh City, Vietnam. Are you ready to have the most relaxing and enjoyable moment of your life with us?
vietnamtravelgroup.com